Our most awaited fashion show, FILMY FASHION left the audience wanting for more. Our students made amazing collections and their designs were simply gorgeous. The students who created these marvellous Filmy Fashion designs worked very hard for this day. They put in their extra efforts to make their designs stand out from the mainstream fashion designs and were successful in doing so. The designs of each collection were gorgeous and looked unique in their own way.
The support from other students and audience from all over the country cheered up the participant designers and motivated them to give their best. Apart from that, our viewers massively encouraged the participants of this fashion show event and made this show a huge success.
What made our Live Digital Fashion Show, FILMY FASHION, a hit?
The hard work and the efforts of our students were enough to make the show a hit but there are several other factors that cannot be ignored. These factors played a major role and must be acknowledged. Let's have a look at them one by one:
1.COLLECTIONS
The mind-blowing collection of our student designers left us all in awe. One could not distinguish if these designs were made by amateur designers or professional designers. The designs of these collections were inspired by Bollywood movies. The viewers couldn't help but stay hooked to their screens during the show and the count of the online viewers kept on increasing.
The marvellous display of the collections took away the breath of the audience. Right from the beginning of the display of the "Bahubali" collection to the ending collection of "Veere Di Wedding" all the viewers were hooked on to their screens while they enjoyed this fashion show. Each and every collection was inspired by the super-hit Bollywood movies and the designers made beautiful designs keeping the essence of every movie in their collection.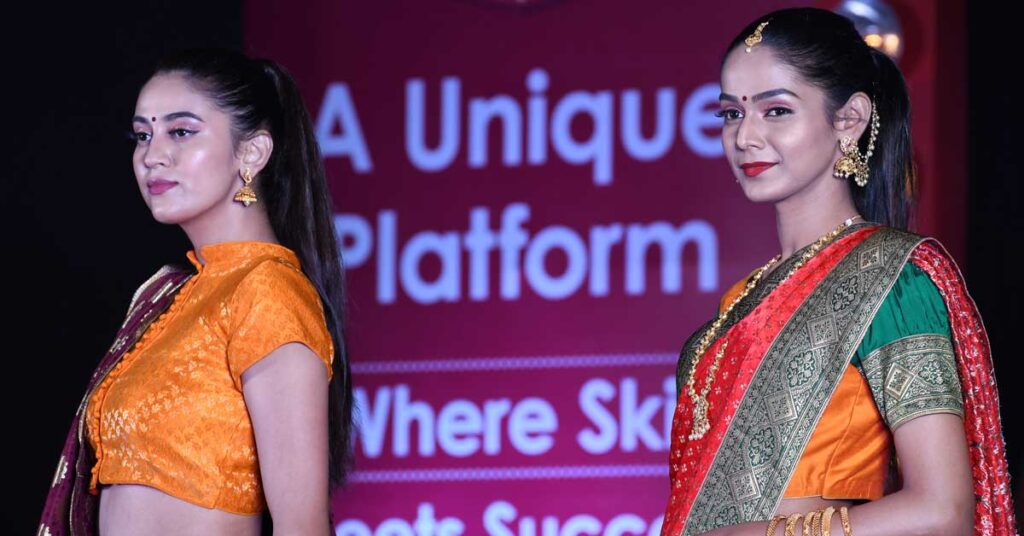 2.ONLINE MOTIVATION
The motivation received by the online viewers boosted our student designers and gave their talent the recognition it derserves. There were more than 5000 viewers supporting our designers and watching our fashion show live on YouTube and our website. The viewers kept voting for their favourite collections in order for our student designers to win awards after the fashion show. The audience also bought dresses the designs that they loved the most from our website.
These outfits are so gorgeous that they can be worn on many occasions and festive ceremonies. Most of the aspiring designers took a step forward to make their dreams come true by enroling in their favourite courses with Hunar Online. All these little things motivated our student designers and kept them going throughout the show.
3.VOTING AND SHOPPING
The facility of online voting helped us decide the winners of our fashion show. The stunning collections inspired by the hit Bollywood movies gained a lot of praises and votes. The winning collection, "Kabhi Khushi Kabhie Gham" managed to break all the records and received the maximum number of votes.
Why Learning with Hunar Online is a Unique Opportunity for Every Aspiring Fashion Designer?
As much as this fashion show was a success and everyone loved it, this show was also a unique opportunity for aspiring fashion designers and there are many reasons for it. Learning with Hunar Online has many unique opportunities that every aspiring designer looks for before starting their career. Let's have a look at them one by one:
1.Judges
One of the most prominent fashion designers of Bollywood and 4-time national award winner, Neeta Lulla was the judge of the FILMY FASHION. She has won many awards for designing costumes for super-hit movies like Devdas, Jodha Akbar, Manikarnika and many more. She also mentored the student designers who participated in our Live Digital Fashion Show and has been an inspiration to many aspiring fashion designers.
Apart from Neeta Lulla, another jury member was Nishtha Yogesh, the CEO of Hunar Online Courses. She believes in the empowerment of women and is dedicated to achieve it. She has also won multiple awards in the education sector and works towards women empowerment.
Another jury member was Mrs. Ajitha Reddy. She is the founder of Hamstech Group and CEO of TheHLabel.
2.Learning in Your Language
Hunar Online Courses provides you an opportunity to learn in the language of your own choice. You can learn your favourite course in your own language. This choice of language makes it easy for all the students who want to learn a creative course but cannot do so because of the language barrier.
3.Learn from Anywhere and Everywhere
The easy video lessons of Hunar Online provide you with an opportunity to learn from anywhere and at your own comfort. You can access these videos at any time of the day and learn at ease from your house.
4.Starter Kit
After enrolling in your favourite course, you receive a free starter kit that contains all the necessary items required for learning the course. You don't have to put in extra efforts and money to purchase these necessary items, Hunar Online will provide you with all the essentials.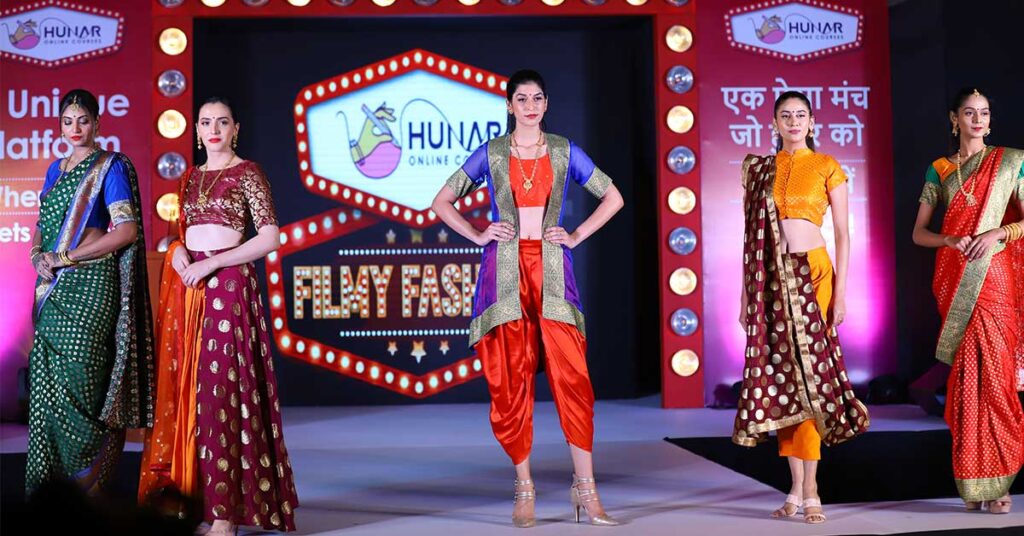 Our Live Digital Fashion Show, FILMY FASHION made the dreams of many students come true. 100+ women from 100+ cities participated in this fashion show and did something extra-ordinary out of their ordinary lives. It provided a great opportunity to all the ordinary women who wanted to create their unique identity and do something different.
Hunar Online Courses offers many online courses where you can use your talent and learn different types of creative skills. You can make use of your creativity and design anything and everything. You can also enrol in our onlinecourses. You also get 24/7 faculty support which will help you clear your doubts. So, what are you waiting for? Join Hunar Online Courses and start building your career with new skills.