Do you know why hair is called crowning glory? Because it enhances our looks. If you are searching Best hair style for a saree, then here is your stop. For special occasions like parties, weddings and any other, women prefer to wear saree. The problem is that so many women spoil their saree look because of their messy hair style. Therefore, you should definitely choose the best hairstyle for a saree, to complete your look. So, this is a cumulative list of various signature hairstyles for saree to complete the saree look anytime without any dilemmas.
1.HAIR BUN
GAJRA BUN- This is the most traditional and evergreen hairstyle for saree. For this bun, you have to take all of your hair and tie it on a simple bun. After that take a round gajra, it is easily available in the market or any flower shop. If it is not available then take a bunch of jasmine flowers and tie it around your bun. At last stick it with bobby pins.
Source: Pinterest
FLORAL BUN– It is quite similar to gajra bun but in a modern style. With this floral bun hair style for saree, you can choose the colour of the flowers as per your saree colour. Like, for dark shade saree you can choose red rose or marigold or any dark yellow colour flowers. Same as for light shade colour saree you can go with matching colour flowers of light pink or white colour rose. For this style, you can cover your bun with flowers or can be tied for just one side.
Source: Fab Weddings
LOW BUN– It is a plain and simple bun but below from the average height. It is made on the side of your neck. It might look great with heavy work sarees like embroidery or Banarasi silk, etc.
BRAIDED BUN– Braided bun is one of the beautiful bun in all the hair styles. For this you have to divide your hair in two parts. Major parts will go with bun and with small parts, you have to make a braid starting from one side.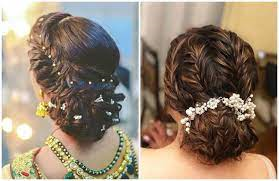 Source: Mirraw Blog.
2.STRAIGHT HAIR
Simple long straight hair will never be out of fashion. If you are in a hurry and do not have time for a stylish hair style for a saree, you can go with straight hair. The in-line hair style matches with any outfit. If you have curly or wavy you can use hair straightener also, for a perfect hairline.
Source: Pinterest
3.HAIR CURLS
SOFT CURLS– For soft curls, you have two ways. First you can divide your hair into multiple parts and pin them out. Leave it for an hour and open it for curls. Second one you can curl it with low heat.
Source: PoPxo
RINGLET CURLS– If you have curly hair then you are blessed, but if you don't then not to worry. Use plastic or wooden handy rollers and tie it with your hair. Yeah, it's time taking but for worth.
Source: Zerokaata
VINTAGE CURLS– It is an old hair style for saree, which were used in the early period. It is back with a new style.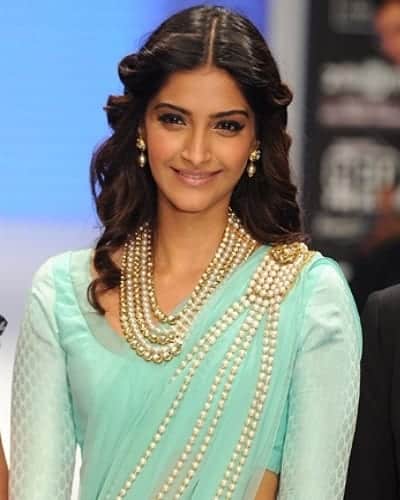 Source: Outfit Trends
4. HAIR BRAIDS
LONG BRAID– If you are blessed with long, shiny and smooth hair then you must try a simple long braid. To enhance your look, you can add hair pins, flowers or hair brooch also.
Source: South India Fashion
HALF BRAID– For this hair style for saree, you have to part your hair in 3 parts. Two small parts from both sides and make a thin or thick braid. Now you're done.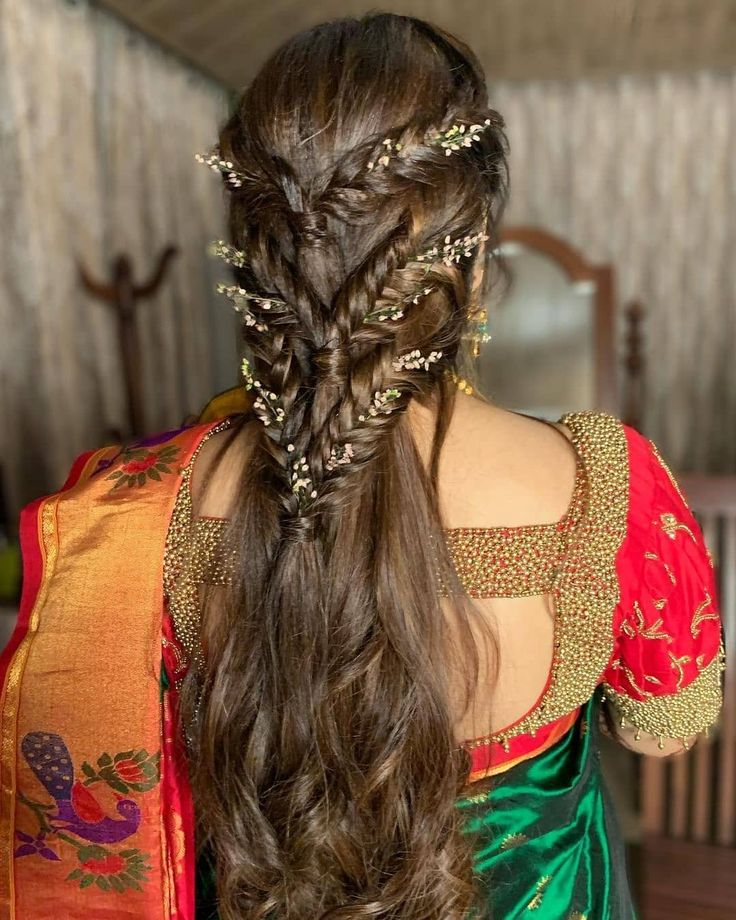 Source: Pinterest
SIDE BRAID– It is a normal braid style but on one side. All you have to do is, put all your hair together at one side and braid it with desired style.
Source: Mirraw Blog
FISH BRAID– It is a type of side braid style but in a different way. You can also match this style with French Braid, due to the similarity of its styles.
Source: Pinterest
5. PONYTAIL
BUBBLE PONYTAIL- Bubble ponytail are one or more braids that are tied with continuous hair ties along the length of the ponytail, with about an inch or two between them,
CURLY PONYTAIL- Curly Ponytail is the cutest form of Ponytail among all. If you have curly or wavy you can use hair straightener also, for a perfect hairline.
Source: Wed Book
Apart from the above, there are so many ways to learn new skills just sitting at home, in a couple of months. We are always ready to welcome you on our platform. Learn in your own language. Now that you know how to start learning beauty courses and fashion styling at home, so blend all your creativity together and colour those on the canvas of your stitching hoop.
At Hunar Online, you will get access to detailed video lessons and can learn from anywhere. You will get 24/7 faculty support and a chance to learn from the experts in the industry. You can also watch our trial classes and get a glimpse of our courses. You can start learning your favourite course by downloading the app.
So, what are you waiting for? Join Hunar Online Courses and do what you always wanted to do.