Hunar Online courses are a convenient and flexible way to learn new skills or acquire knowledge. They can be accessed from anywhere with an internet connection and can be taken at the student's own pace. Many reputable universities and institutions offer online courses, as well as specialised websites. Hunar online courses offer certification courses that can be applied to a certificate program. However, it's important to note that not all online courses are created equal and the quality may vary greatly. It is always a good idea to research and read reviews of the course and instructor before enrolling.
There are many different baking courses available, both online and in-person. The type of course you choose will depend on your skill level and the specific type of baking you are interested in. Some common types of baking courses include:
1.Baking Classes for Beginners:
These classes are designed for people with little to no experience in baking. They typically cover the basics of ingredients, equipment, and techniques.
2.Intermediate Baking Classes:
These classes are for people who have some experience in baking and are looking to improve their skills. They may cover more advanced techniques and recipes.
3.Specialty Baking Classes:
These classes focus on specific types of baking, such as bread making, pastry, or cake decorating.
4.Professional Baking Classes:
These classes are for individuals who want to start a career in the baking industry.
5.Online Baking Classes:
There are many online baking classes available that can be taken from the comfort of your own home. Some of these classes are self-paced and others are live and interactive.
It's always a good idea to research any course before signing up for the course.
HUNAR ONLINE BAKING AND CAKE-MAKING COURSES
1.All-in-1 Baking Course
Learn the nuances of baking in this online baking course. The course has over 40 recipes and prescribes different classes. In this class, you will learn how to prepare all the foods that we normally bake. It helps you become independent and confident. Thousands of women have learned new skills and become financially independent through this online baking course. Now you can take all these courses at home on one platform. You will also have the opportunity to learn and get advice from experts.
2. All-in-1 Cake Making Course
This is an online baking course for women aiming to become pastry chefs. In this section, you will learn cake-baking skills for all types of cakes available in the market. All celebrations may or may not have cake. Take an online cake-baking course. Here you will learn many methods of cake making. Over 40 types of cakes and how to make them. Learn how to bake and present cakes in this online cake-baking course. Today, everything that is adorned comes out into the light. Just like how makeup can show off your inner beauty, decorating a cake can show off your baking skills in front of everyone.
3. Short Baking Course
This is a short-term baking course where you can learn the nuances of baking in a short time. This online baking course covers the little things that go into baking and making cakes. Over 25 recipes and baking information are available in this short baking course. This course is useful for all women and girls who want to learn how to bake bread in a short amount of time.
4. Short Cake Making Course
This is an online baking course, a short-form of cake baking course. Short courses allow you to learn how to make different types of cakes in a short amount of time. In this class, you will learn how to make different types of cakes at home, including cake, strawberry cake, chocolate cake, vanilla cake, etc.
5. Chocolate Making Course Online
In this course, you'll learn how to make chocolate-based pralines, use them in cakes, or sell them yourself. Today, chocolate has become a necessity in the name of sweetness. Everyone loves chocolate, from children to adults. Chocolate is used in cakes and milkshakes. Hunar Online chocolate-making courses can make you a better chocolate maker. After completing this course, you will receive a certificate recognized by the Government of India. This allows you to work like a chocolate maker or start your chocolate business anywhere.
Apart from the above, there are so many tutorials regarding how to bake a delicious cake at home. You will get proper guidance in our All one Baking Course at home. We are always ready to welcome you to our platform. Learn in your language. Now that you know how to learn about Baking Courses at home, come and join us as soon as possible and grow in your career and life.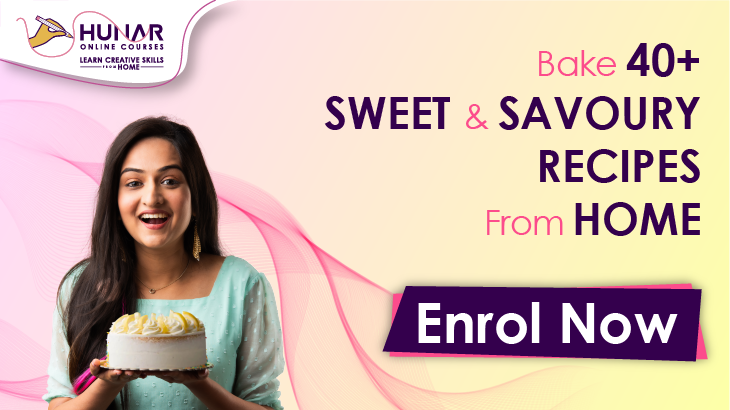 At Hunar Online, you will get access to detailed video lessons and can learn from anywhere. You will get 24/7 faculty support and a chance to learn from the experts in the industry. Also, You can watch our trial classes and get a glimpse of our courses. You can start learning your favourite course by downloading the app. So, what are you waiting for? Join Hunar Online Courses and do what you always wanted to do.