Latest Fashion Trends are not only about clothing, but it refers to the style of looks, including clothes, hair styles, face look, after ready look and much more. Whatever comes under these categories their trending styles matters. Here we are sharing new fashion trends for women that will help them to create an upgrade with their persona. Here we are talking about new fashion styles for clothes, accessories, styling and many more in 2022. These styles are coming with modern traditional mixed fashion. Read this blog till the end to know more about the latest fashion trends and style, which are popular nowadays. Let's have a look
Women have so many choices with their apparel. From shopping to weddings, they have lots of options to wear clothes. Let's talk about latest fashion trends in clothes, which are popular with women's clothing fashion-
SAREE WITH FRILL
This is popularly known as Ruffle saree. Now-a-days, Ruffle Saree is the latest fashion trend in saree. It will look versatile on your shoulder, draped up to your waist as pallu. You can carry a saree belt with it. It will enhance your saree look elegantly. It can be draped with different styles. Bollywood celebrities have been seen with these frill sarees added with belts, shoes, bracelets and other accessories.
Source: YouTube
DHOTI SALWAR
Dhoti is an original and old style of Indian wear. But it comes with different styles in the latest fashion trends. Combination of dhoti and salwar is equivalent to Dhoti Style pants or salwar. It can easily go with short kurti, Tops, crop tops and even with shirts also. You can try it for a new and trendy look. This is the most unique clothing wear and also trendy.
Source: Pinkvilla
PAKISTANI SUITS
If we talk about embroidery and heavy suits in the latest fashion trends work, then how can we forget to mention the Pakistani Salwar Suit? They are trending in clothing style. After the TV dramas, it became so popular among all the women. Even you can see Indian Celebs wearing Pakistani Salwar Suits very beautifully. Most of these types of suits come with sharara and pants. Pakistani Suits have embroidery heavy work as well as light work.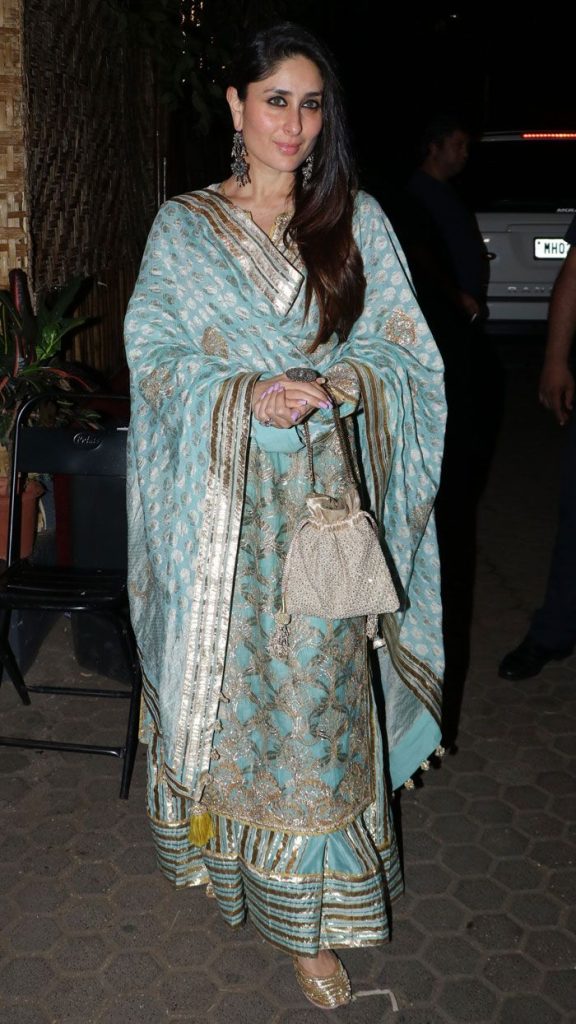 Source: Pinterest
KAFTAN KURTI
Kaftan Kurtis are very different from regular Kurtis and kurtas, they are loose and comfortable to wear. Originating in Mesopotamia, the caftan was rapidly adopted by many groups in the Middle East, Africa and Southwest Asia. Because of its loose fit, the caftan appears a little oversized. Harmony and balance are important, so it can be worn in small purses, bags, and the compatibility with the clutch is also excellent. It has more variations and patterns and can be worn in many different ways.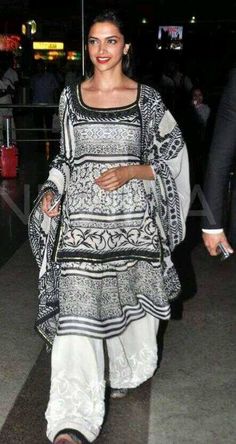 Source: Pinterest
MONOCHROME CLOTHING
Usually Mono refers to the same colour outfit from top to bottom. These looks are simple but stylish. Wearing assembled colours can be a unique way to dress up. It can be matched with a denim outfit. In the modern era, people and even celebrities also choose to pick monochrome outfits for casual as well as formal wear. Also neon colours are more popular with these monochromatic clothing looks.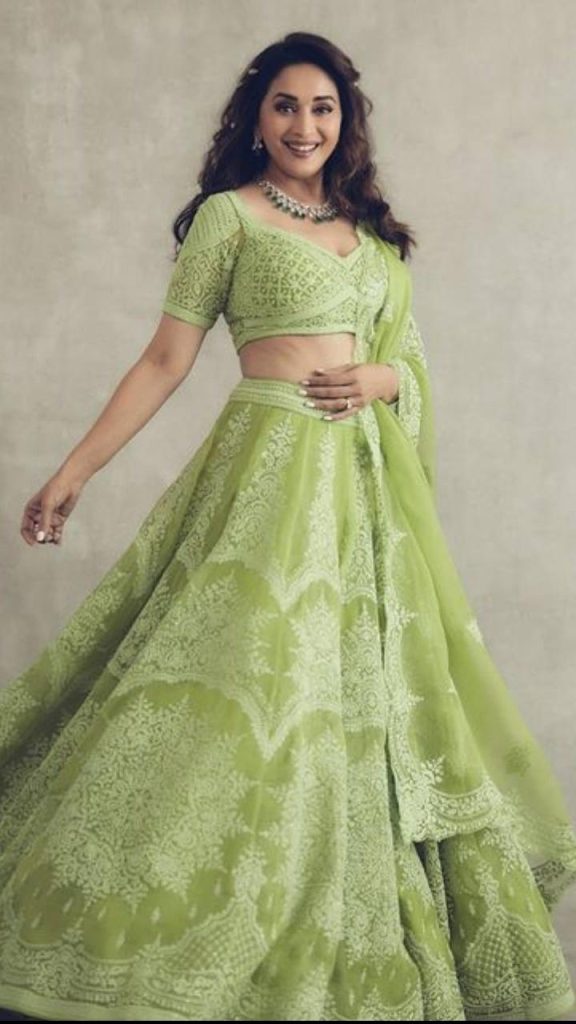 Source: sophiakhetrinagar.in
WOMEN'S LATEST FASHION ACCESSORIES IN TREND
Now, start with accessories, which are used by women for the latest fashion trends. They matter most because they add shine and glow with your outfit. So, let's see-
SAREE WITH BELT
To give you an embracing look, you should keep a belt with a saree. In jewellery there is a kamarband, generally people call it Vadannam, Saree belt is similar to that. In the front it has a heavy design and it enhances the saree look, but the saree belt is as simple as a normal pants belt. If you are wearing a monochrome saree, then a saree belt will be a great combination for your latest fashion trends look!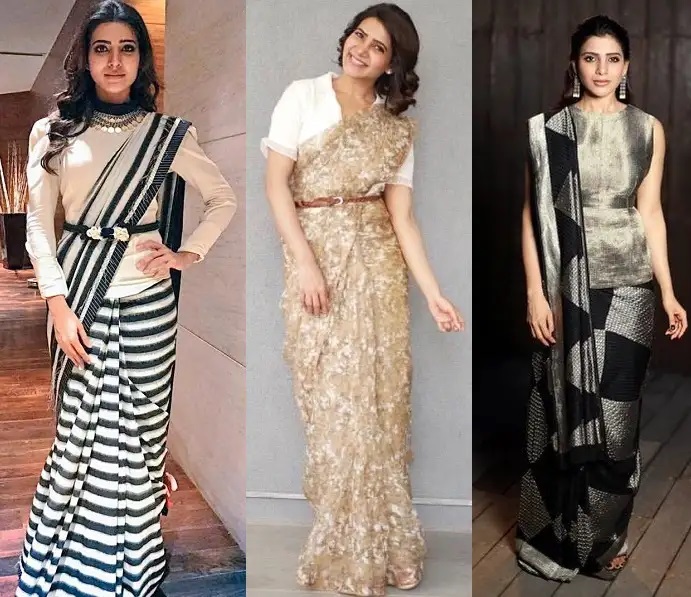 Source: Styles at Life
BRIDAL LEHENGA WITH SHOES OR SNEAKERS
Nowadays, it has become a trend to carry sneakers or shoes with a Bridal Lehenga. These days, Brides choose gold and white colour sneakers to carry their bridal Lehenga. Step up your coordination game by donning a pair of bridal sneakers that are exactly the same colour as your red Lehenga, and watch as it gives your wedding-day ensemble tones of charm. Although not a common choice, embroidered sneakers may be a true game-changer for a bridal look if dressed properly. Result will be a traditional attire with a pinch of modern touch.
Source: Charm Board
Apart from the above, there are many ways to learn the latest fashion trends at your home, in a couple of months. We are always ready to welcome you to our platform. Learn in your language. Now that you know how to learn about the latest fashion saree at home, draw all your creativity together and colour them on the pages of your wardrobe.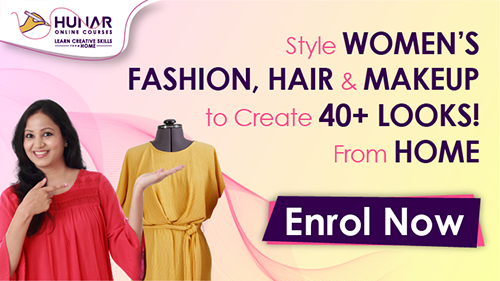 Also Read: 4 Fashion Styling Tips for Wearing a Saree
At Hunar Online, you will get access to detailed video lessons and can learn from anywhere. You will get 24/7 faculty support and a chance to learn from the experts in the industry. You can also watch our trial classes and get a glimpse of our courses. You can start learning your favourite course by downloading the app.
So, what are you waiting for? Join Hunar Online Courses and do what you always wanted to do.