Summers are great for fashion and you can flaunt your style in the way you want. But when it comes to your skin, summers can give a very trying time to the skin. This is the season when your skin needs special attention and extra care from you. With the rise in mercury, the heat and pollution also increases which can take a serious toll on your skin. Your skin is not only exposed to tanning and peeling but the harmful radiation of the sun can also cause premature ageing. It can take away the natural radiance from your skin leaving it dull and oily. And how can you become a fashionista when your skin doesn't listen to you.
During the summer, the dust particles stick to our skin and clog the open pores. This results in trapping bacteria that can cause acne, pimples and blemishes on the face. Many fashion stylists will suggest products but they tend to fail.
If you turn around the pages of a fashion magazine, you'll find many cosmetics brands that promise to heal the skincare problems of summer but none of them tend to work out. Rather the chemicals used in these products can sometimes react with your skin and cause ill effects.
Well, we cannot blindly trust these magazines and fashion stylists. We must do a thorough research and see what works the best for us. During this crisis, the good old remedies of our grannies come to our rescue but before trying them you should know your skin type. So that you can get the best results in a short span of time. Here are some tips that will help you fight all the skin devils that pop out during the summers.
1. Consider Changing Your Face Wash
With the change in temperature from winter to summer, the texture of your skin also changes. So make sure that you change your face wash accordingly. During the winters, our skin tends to become dry and itchy and that type of skin requires nourishing face wash, but summers are opposite. You need a face wash that can draw out all the excess oil from your skin. If you have naturally dry skin, then consider using a non-foaming cleanser. This can also be used by people who have combination skin. Make sure to wash your face many times during the day, so oil is not produced. As the formation of oil on the skin can cause acne and pimples.
Image Source- Barva Skin Therapie
2. Make Sure to Keep Your Skin Hydrated
Lack of water can be the primary reason why radiance and glow is lost from your skin during the summer. Make sure you keep it hydrated so that you can maintain the charm and flow of your skin in the scorching summer season as well. Invest in good hydrating masks and apply that on your face at least twice in a week. Make sure that before applying any kind of mask you wash your face properly and get rid of all the dust particles and dirt. Set multiple reminders at regular intervals which will keep you reminded to drink water throughout the day. Proper hydration helps repair the skin.
3. Exfoliate Regularly
The key to smoother and brighter skin is exfoliation. It removes all the dust particles that clogs your pores and also removes the dead cells. Home remedies and homemade products are the best when it comes to exfoliation. You can use grounded coffee mixed with oil and sea salt. Make sure that you exfoliate your whole body and not just your face. Be gentle while exfoliating you wouldn't want to bruise your skin and get rashes. If you have sensitive skin then you must opt for mild exfoliators.
4. Wear Sunscreen
Sunscreens are the best friend for our skin during summers. Even if you are staying indoors you must wear sunscreen to protect your skin from radiation. While buying a sunscreen choose one with a broad ultraviolet spectrum. Make sure it has SPF ranging from 30-50 and covers UVA and UVB. If you are spending your day in the sun, make sure to apply it every 3 hours to ensure extra protection. Cover your hand, feet, neck and shoulder.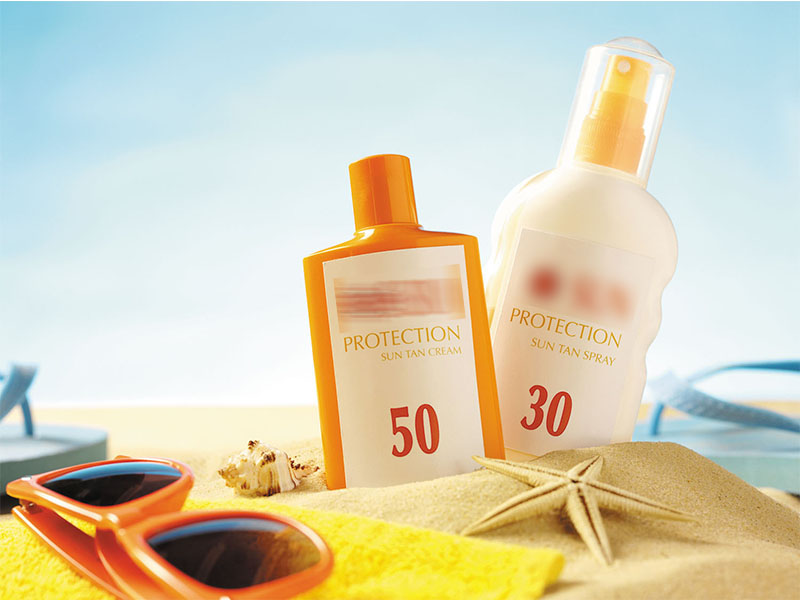 Image Source- Harvard Health
5. Cut Down on Makeup
Summer is the season that calls for minimal makeup. You must go easy with makeup in the hot season and allow your skin to breathe properly. Humidity and heat suppresses the ability of the skin to breathe properly and makeup adds an extra layer to your skin tat only worsens the condition. Make sure you use a light moisturiser, tinted lip balm and organic kajal in summer. Give a break to your skin and let it rest for some time.
Image Source- The Green Maven
Our skin is sensitive and requires special care and attention in every season, although more effort should be made during summer. Eat healthy foods that keep you hydrated and have a cooling effect on the skin like cucumber, lemon, water-melon, etc.
Now you need not worry about what kind of fashion styling you need when it comes to hairstyle, makeup and wardrobe, we have got you covered. You can join our fashion styling course and learn these techniques easily from home. You will be mentored by Neeta Lulla, a 4-time national award-winning fashion designer. Also, get certified by the Govt. of India and Hunar Online. It has easy video classes which are accessible every time and you can learn from anywhere. You also get 24/7 faculty support which will help you clear your doubts.
So, what are you waiting for? Join Hunar Online Courses and start paving a new path to your career.