Fabrics are considered as the best canvas, you can design and paint anything you want on it to create your own new patterns. A person doing fabric painting is a textile designer and a painter at the same time. Once you get into it you will realise how easy it is to create something creative and unique with fabric painting. In the fashion designing industry fabric painting is very important as it helps create different patterns and designs on fabric which is loved by many people.
Fabric painted garments have been a fashion trend for a long time and are not going anywhere soon. The availability of vast choices of designs and patterns makes it more versatile. Fabric painting is a very interesting hobby and passion and you can also learn this skill and make it your career. To get the best results with fabric painting you must follow the these steps:
1. Set Up Your Fabric Painting Area
A flat surface is the most important requirement for fabric painting. If you are working in a home environment then it can be anything, either a dining table or a kitchen counter. Make sure to cover the area with plastic as paints can be messy. Have all the materials like colours, brushes, fabrics and mixing palette ready by your side before you start working.
2. Right Tools for Fabric Painting
Fabric painting requires certain tools so have these tools by your side while painting. Brushes of different sizes, foam or sponge brushes, fabric markers and optional tools like stamps, wooden blocks, stencils, etc.
3. Fabric for Fabric Painting
Choosing the right kind of fabric for painting is very important. Make sure that you choose 100% cotton or natural fibre fabrics. You can paint on silk and linen but it is difficult to paint on these fabrics as compared to the other fabrics.
4. Fabric Painting Design
If you are not good at designing, start by using stencils to create patterns and designs. You can also trace the patterns on the fabric. You can use paint directly on the fabric.
There are a variety of fabric painting techniques and we can use any one of them to create beautiful designs on the fabric. Let's have a look at the different techniques one by one:
1. Block Painting Technique
It is one of the oldest and the simplest of all methods. This technique is used from ages and has been passed down to us from generations. Earlier blocks were created with the help of vegetables but now wooden blocks are used. The desired design is carved on a wooden block and then it is dipped into the paint and the design is transferred on the fabric. It is a slow process but yields highly artistic results. Traditionally block painting was practiced in the states of Rajasthan and Gujarat.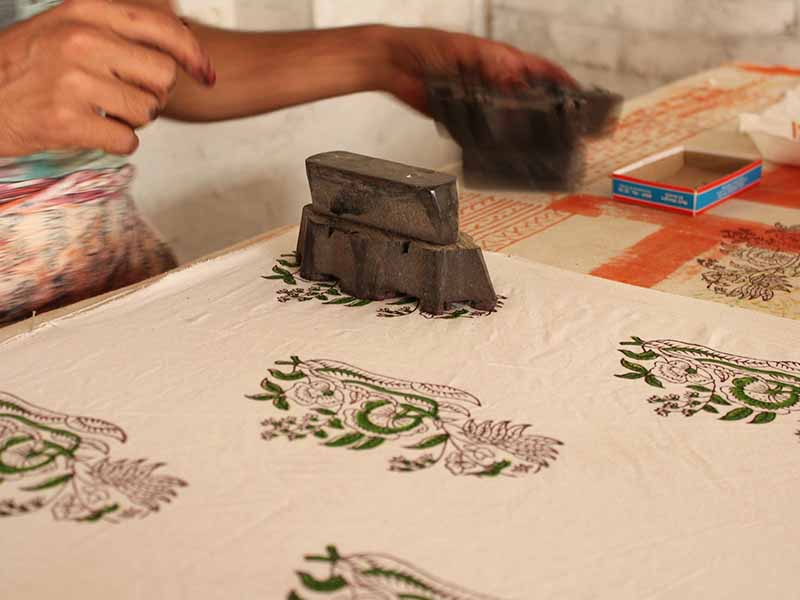 Image Source- Tiny Workshops
2. Tie and Dye Technique
It is an ancient resist-dyeing technique of fabric painting. This technique consists of crumbling, folding, twisting or pleating of the fabric to create certain designs on it. This manipulation of the fabric prevents the dye from spreading on the whole fabric. Tie and dye technique was traditionally practiced in Gujarat and now it is popular all across the country. Many garments are made by using this technique.
Also Read: Learn Fabric Painting Techniques With Hunar Online!
3. Batik Painting Technique
Batik painting technique is a traditional way of designing fabrics and it can be found in various countries like Malaysia, Singapore, Sri Lanka, Nigeria, Indonesia and India. It is a wax-resist dyeing technique with the help of which diverse patterns are created. You can either use melted beeswax or batik wax to create designs on fabric. The design is made by using either lines or dots with the help of a special tool called 'canting', to create patterns according to your choice.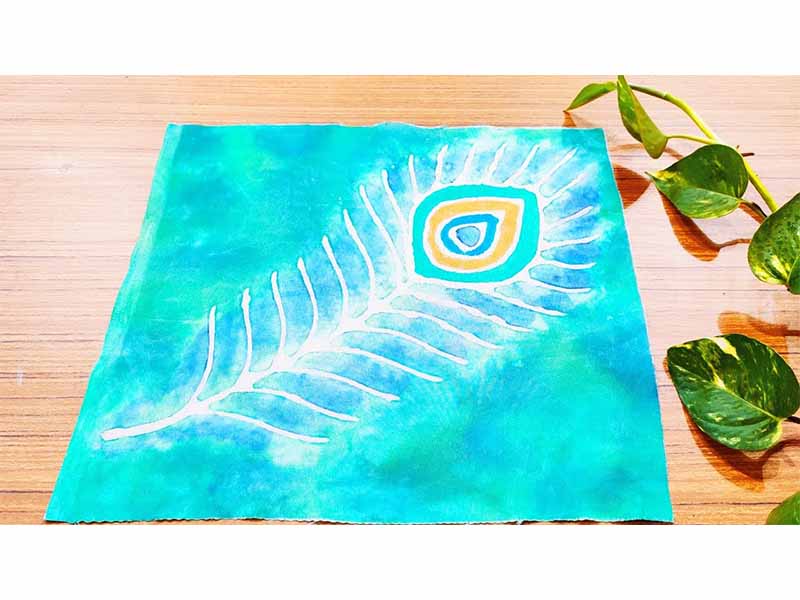 Image Source- YouTube
4. Dot Painting Technique
This fabric painting technique is perfect for the beginners because it is one of the easiest painting techniques. Making patterns and designs using this method is very simple as it requires only a few tools and the outcome is vibrant and colourful. Keep the materials ready before starting. You will need paint, earbuds, pencil and a thin stick. Create a design with pencil and dip the earbuds in the paint and press it on the fabric as per the design. This will help you get the desired results. Make sure that you wash and iron the fabric before you start painting on it.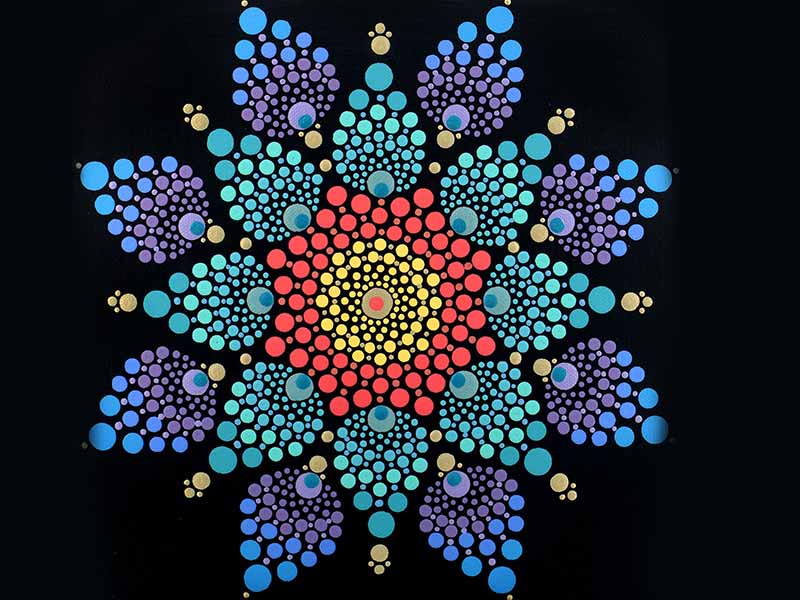 Image Source- Pinterest
Many institutes are teaching a Fabric Designing Course as it is gaining immense popularity lately. Many people assume that it is tough and creating designs using this craft is very complex, but this is not the case in reality. You just need to spend some time learning this new skill regularly and before you realise it, you'll be the master of it. Hunar Online Courses offers a Fabric Designing Course where you can use your creative skills and create different types of designs. You can make use of your creativity and get a perfect design according to your needs. You can enrol in our Online Fabric Designing Course. It has easy video classes which are accessible every time and you can learn from anywhere. You also get 24/7 faculty support which will help you clear your doubts.
So, what are you waiting for? Join Hunar Online Courses and start paving a new path to your career.