A world without fabric designing would be a world without colours. The very sense of recognising the various shades of colours comes not from looking at nature but from observing them on different types of fabrics. Before we go any further, we need to understand what fabric is. Fabric is basically a type of cloth or other similar woven material made from plant products synthesised into fine threads of nylon, cotton, silk, wool, etc.
Two main steps go into making a fabric. These are – weaving and knitting. Fabric also serves in the production of further products such as clothing and upholstery. It is the heart and soul of the fashion design business and no fashion design training programs or fashion design courses can function without it.
Fabric designing, as the name itself suggests, is the process of applying different styles and colours to a piece of cloth. This provides a massive employment opportunity, particularly, for the women of the country.
Here, we'll take a look at the different types of fashion design techniques that in turn, produce different desired results.
1.Block Printing or Stamp Printing 
Block or stamp printing is a printing technique that makes use of stamps or blocks to create designs on fabric. Designs of various shapes and sizes carved onto a piece of wood, which is also known as a 'stamp' or a 'block'. This stamp is then soaked into the colour of the required taste and the imprint is then transferred onto the fabric. The process is quite similar to some of the activities we performed as a child back in our school days when we would create a design . One of the particular resemblances is that of transferring flower imprints onto a craft paper.
Merits – Since the activity involves human force, it is laborious and time taking. There is a good chance of printing smudge as well. It is cost effective and a perfect choice for small businesses. The best thing about stamp printing is that no machines are used, therefore, you can start your business on a small scale from anywhere. No usage of the machines makes this operation cost-effective. It is quite a simple technique to carry out.
Demerits – You can make only one design per stamp. You need multiple stamps to create different designs which is a tedious job. As no machine is needed for this job, you cannot make large orders and the quality is also not uniform.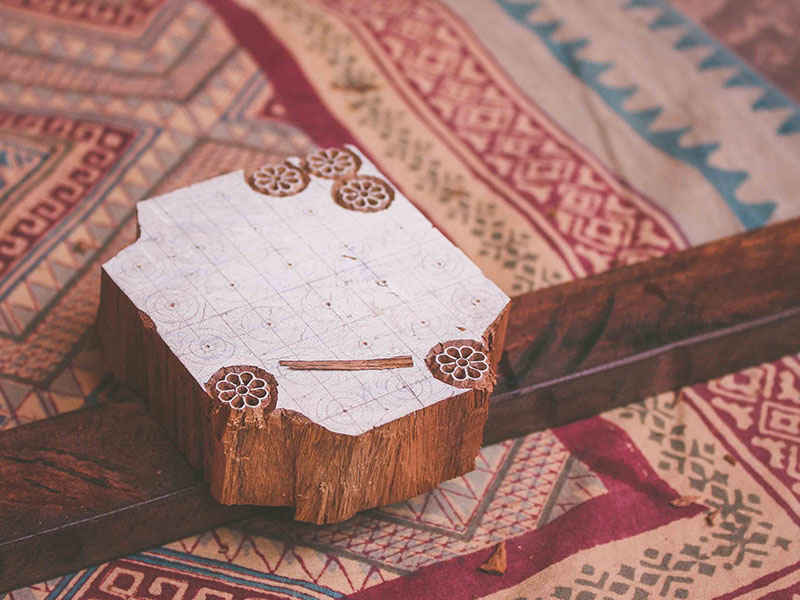 Image Source- Adventure.com
2. Hand Screen Printing
In this approach, the pattern is created by flooding colours through the open mesh of the designed screen. A nylon mesh is mounted on a wooden frame and on this mesh, the design is drawn with the help of a stencil or a design paper. The design area is then blocked out with a waterproofing material. The screen is placed onto the fabric and with the help of a squeegee, coloured ink is allowed to flow through the holes in the mesh and onto the fabric. Silkscreen printing is one of the most common fabric designing techniques.
Advantages – This method is long-lasting and ideal for large runs. The image reproductions done using this technique are amazing and clear.
Demerits – Only one colour can be printed at a time. If the blocked out areas of the screen leak from anywhere, the whole design is distorted. It creates a lot of waste and not a great idea for photos or graduating colours.
3. Fabric Designing with Transfer Printing
This technique is similar to the technique used in lamination. The selected design is printed on a transfer paper which is then imprinted onto the fabric by transferring heat either by using the domestic steam iron or by passing it through a heating machine.
Pros – This type of technique can be carried out on a professional level.
Cons – With multiple washes, the design area can damage and fade.
The print is not likely to be of a very high resolution.
Image Source- YouTube
4. Roller Printing
This method is also known as 'direct printing'. The designs are carved onto the roller pads and these are then filled with colours. The fabric on which the designs are to be obtained is made to pass through these roller pads. Due to high pressure, the designs are transferred to the fabric by bringing it in close contact with the roller pads.
Merits – This approach can be performed on a large scale. As many as 16 colours and designs of complex nature can be obtained by using this technique.
Demerits – Since the method involves engraving designs onto the roller pads, it is quite expensive. It is not suitable for small runs.
5. Fabric Designing with Discharge Printing
In this approach, generally, prints of light shades are created against dark backgrounds. Discharge printing is also known as 'extract printing'.
To achieve a white pattern on a coloured background, only bleaching agents are added to the print paste. This discharge paste is then printed onto the dyed fabric. The colour-destroying agents will bleach out a light pattern against the darker background. Similarly, to obtain a coloured pattern, other suitable dyes are added to the print paste.
Advantages – It can be used for high-grade printed fabrics.
Disadvantages – It is an expensive technique and the process of production is long and complex.
6. Wax Printing
It is a resist printing style in which, before dyeing, the design area is blocked out by applying wax to it. This will stop the dye solution from penetrating the design area. The final step in this procedure is the removal of wax which can be achieved physically, through dry or moist heating.
Pros– With the right equipment, this technique is easy to carry out.
Cons– This approach cannot be used for printing complex designs as it will make the process complex and laborious.
Image Source- 123RF
7. Fabric Designing with Inkjet Printing
All that is needed for this technique of printing is freezer paper, a piece of fabric and an inkjet printer.
After having ironed the freezer paper onto the fabric, it is cut down to the size that the printer can accept. Then treating the fabric as a normal sheet of paper and sticking it into an inkjet printer, any chosen design can be printed.
Merits – Images or designs of very high resolution can be obtained through this process.
8. Digital Textile Printing
This method is similar to inkjet printing. It is the process of printing textiles and garments using specialised or modified inkjet technology. Hence, this process is also known as 'digital garment printing'.
Advantages – Multiple colours, variable data and large customisation options are available.
Disadvantages – It is not as durable as screen printing. The ink cost is rather high.
9. Fabric Designing with Dye Sublimation
Dye sublimation technique of fabric printing produces the best results and is mostly preferred by people. This is a multi-step process that takes a bit longer time but produces the best results. In this method, the design to be imprinted on the fabric is transferred on a thermal transfer paper known as dye sublimation paper. Then an equal amount of heat and pressure is applied to transfer the design from the paper to the fabric. With the help of this technique, the dye is penetrated deeply into the fabric and the fabric is soft as before.
Merits– The best thing about this printing technique is that the result is amazing and permanent. Dye sublimation is eco-friendly as the ink does not fade or peel off. This technique is suitable for all print sizes.
Demerits– This printing technique requires specialist equipment and dyes, therefore, it is not suitable for small business. You cannot use this technique to print designs on natural fabric. It is important to make sure that the fabric is poly textile before you start printing. It requires in-depth knowledge and cannot be performed by someone who is not a specialist.
10. Reactive Printing
Reactive printing is a heat activated printing method that is commonly used. In this method, fabric is pre-coated first and then binder and printing additive is added to create prints and designs on fabric.
Merits– It creates a chemical bond between the ink and the fabric fibres and works well on natural fabrics as well.
Demerits– It requires pre-treatment and post-treatment and is not easy to carry out. It is an expensive fabric printing technique.
Image Source- CEMSA TEXTILE
People assume that Fabric Designing is very tough but that is not true. To master this skill, you just need to be consistent. Hunar Online Courses offers a Fashion Designing Course where you can use your creative skills and create different types of fashion designs, fabric designs and much more. You can enrol in our Online Fabric Designing Courses. It has easy video classes which are accessible every time and you can learn from anywhere. You also get 24/7 faculty support which will help you clear your doubts. You can watch our free trial classes to get a glimpse of our courses and download our app to start learning.
So, what are you waiting for? Join Hunar Online's Fashion Designing course and start learning Fabric Designing to create different fashion designs and so much more from the best in this industry! Enrol now to start your journey towards a successful career!