Flower embroidery designs are perfect for blouses. These days the festive season is going on, so the wedding season is also going to come soon. Whether it is a matter of celebration or a house party, women's wear is always in trend and the wedding season is famous for sarees. After the saree, the name of the blouse will also come, right? So let's talk about the latest blouse designs that are in trend these days and know how the floral embroidery design looks in the blouse?
Now-a-days, the fashion of embroidery has also returned. People have started embroidering on their sarees, suits, and other clothes as well. A part of the same is the floral embroidery design, an embroidery in which flower designs are used. It comes with handwork and digital embroidery as well. Create your saree blouses more authentic with flower embroidery designs. Hunar Online Courses offering Fashion Designing and Embroidery Course, by just sitting at your home. Come join your hands with us and create an independent future for you.
BACK NECK FLOWER EMBROIDERY DESIGNS
Here are some popular back neck flower embroidery designs for designer blouses. Let's have a look-
Basic Flower Embroidery
In this type of embroidery, there is embroidery of plain flowers, which are woven together or in separate bunches. This type of flower embroidery design is often done on blouses made of plain cotton fabric. It has many types of unique designs for embroidery designing, which can enhance your festive look.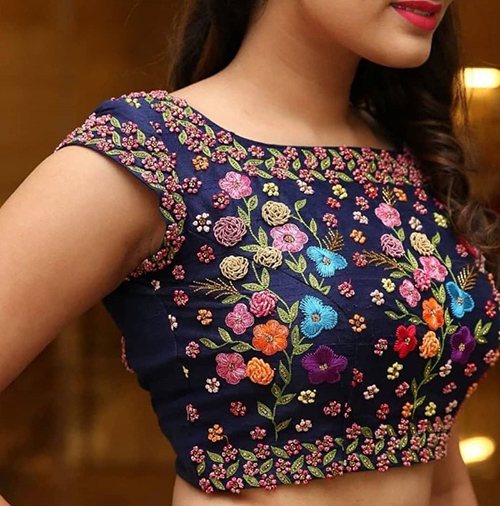 Source: Weddingz.in
Jasmine Flower Embroidery
Jasmine floral embroidery is mainly done on dark colored fabrics. Due to this it emerges with shine. Usually it will look great on black, maroon or green blouse.
Bird Floral Embroidery
Another stylish and unique embroidery is the bird flower embroidery designs. This is a type of embroidery which takes time to make. If you are planning to embroider it, then do it in the lower part of the blouse on the back side neck. This adds to the beauty of these blues.
Source: The Deals guru
Butterfly Floral Embroidery
It is similar to the bird flower embroidery designs mentioned above. Instead of a bird, a butterfly design has to be made in it.
Source: YouTube
Floral Leaves Embroidery
Instead of flowers, leaves embroidery are good for small designs. You may apply it on the neck or sleeves border line. It will enhance the beauty of your saree's blouse.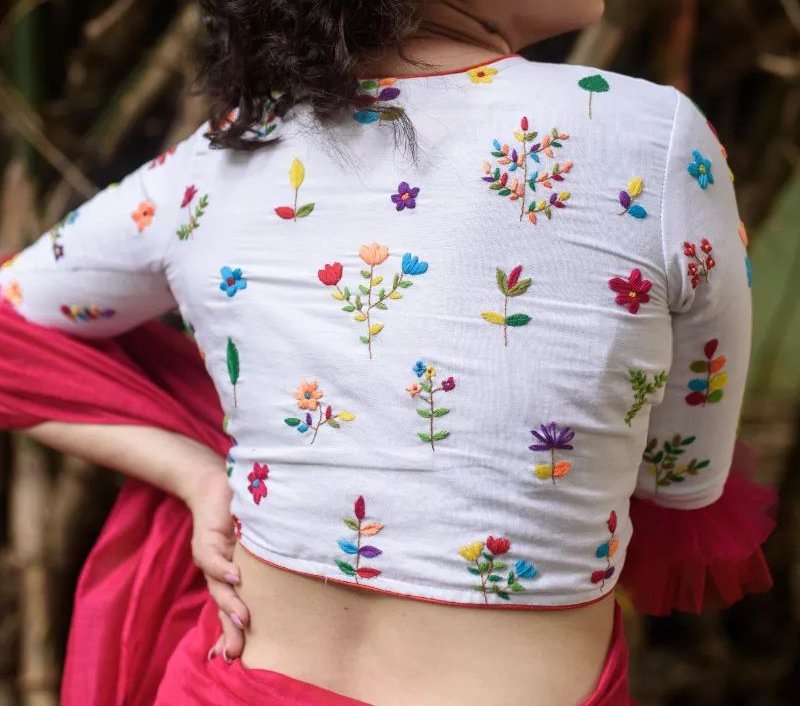 Source: South India fashion
White Rose Floral Embroidery
Another type of Floral Embroidery Design is white rose embroidery. It is very popular in blouse neck along with gown neck or kurti neck line.
Source: Agefotostock
FRONT NECK EMBROIDERY DESIGNS
flower embroidery designs have so many ways to embellish embroidery on the front side of the neck. What matters more here is the neck design. It matters a lot. Front neck design shows the beauty of embroidery works. It must look unique, when someone wears it. flower embroidery designs have many types of work in it, which enhances the beauty of the entire look along with the blouse. It includes many things, such as- Gota Patti, 3D Embroidery, Thread Work, Lace Work, Pearl Work and much more.
Source: Vector Stock
SLEEVE EMBROIDERY DESIGNS
Another showcase for flower embroidery designs is on blouse sleeves. The embroidered sleeves of the blouse gives a splendid royal look. Side look of a blouse also plays an important role in traditional wear, whether it is a saree sleeve or kurti sleeves. It proves to be most effective in bridal blouses. Metal or gold work can also be done on its side. It gives a unique look to the entire blouse. If your blouse is plain then this flower embroidery design will look great on it!
Source: Daily Buys
Have you seen it? There are so many beautiful flower embroidery designs here. You too can make such a design at your home. For this, you just have to register with Hunar Online Courses. And then you will be able to find the destination whose dream is floating in your eyes. A free and independent future in which you get an opportunity to stand on your own feet. Join Hunar Online Courses for more details.
As you can read this blog, now, you get an idea of beautiful flower embroidery designs and their styles. If you have skills and want to brush it in embroidery then join us on Hunar Online Courses. Hunar Online Courses offering courses regarding Embroidery Designing. We are always ready to welcome you on our platform. Learn in your own language. Now that you know how to learn about Embroidery Designing Course at home, come and join us as soon as possible and grow in your career and life.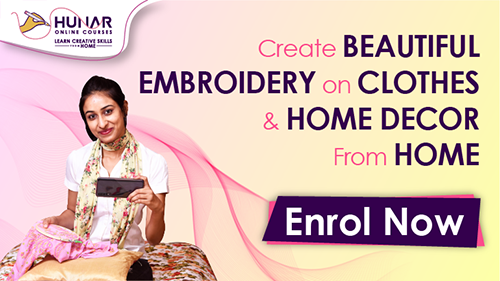 Also Read: Know the Various Types of Indian Embroidery
At Hunar Online, you will get access to detailed video lessons and can learn from anywhere. You will get 24/7 faculty support and a chance to learn from the experts in the industry. Also, you can watch our trial classes and get a glimpse of our courses. You can start learning your favourite course by downloading the app.
So, what are you waiting for? Join Hunar Online Courses and do what you always wanted to do.