Kasuti Embroidery is related to the Indian state of Karnataka. It is hand embroidery stitching with simple counted stitching techniques. The Kasuti embroidery is performed in silk which, earlier, becomes unpicked from the tassels pendant from the pallu. Later it got here to be received commercially. The primary embroidery stitches utilised in Kasuti paintings are the lower back sew, jogging sew, move to sew and zig-zag jogging sew. Usually, kasuti embroidery is stitched in cotton fabric. It is also known for "Chandra kali saree" stitches on black silk saree. It was quite famous in an earlier period.
Source: Pinterest
Types of Stitch in Kasuti Embroidery
There are four types of Kasuti Embroidery in it. Below are the details-
Gavanti Stitch
As its name says, Gavanti is a Kannada word. It means to knot in Canarese or Kannada language. It is a double running stitch, that works in all directions, like Horizontal, Vertical and Diagonal. If you want to learn running stitches then you should check our last blog on Indian Embroidery and Stitching.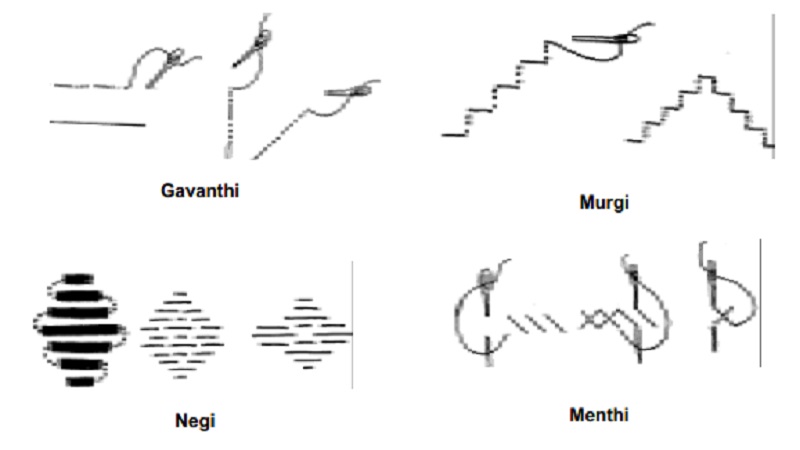 Source: BrainKart
Murgi Stitch
The second form in Kasuti Embroidery is a Murgi Stitch. This is a running stitch in the form of a ladder. It is quite similar to the Gavanti stitch. It looks like a ladder but you have to make it neat and clean from both sides, the front and as well as backside.
Negi Stitch
In the Canarese language, 'Negi' means to weave. It is used to make long and short patterns with a darning stitch.
Menthi Stitch
It is the last type of stitching in Kasuti Embroidery. Methi or Methi is known as fenugreek in English. Same as the name, its style of stitching is a cross-stitched style.
Source: Sarah's hand embroidery
HOW TO STITCH?
Kasuti Embroidery patterns with Gavanti and Murgi stitches generally appear to be topstitched, but this would produce the same look on the front and back.
Start from the running stitches with the front side along with the backside.
To create double-run stitch style designs, the lines are created in multiple passes.
In a single pass, each stitch usually goes in the same direction.
The seam starts in the centre and forms a diagonal line of horizontal stitches known as Murgi stitches.
On the back of the embroidery, the stitches are all vertical.
After the diagonal line follows a row of normal runs, which are finally filled with more runs.
Things to Have:-
Embroidery hoop
Needle
Embroidery thread
Cotton fabric
WHAT MORE YOU CAN LEARN?
GARMENT MAKING
Apart from Kasuti Embroidery, and for your career growth, we are offering you an entire garment-making course. In which, you will learn about curating garments for every festive occasion. Learn the fashion design course that will help you choose clothes for any festive occasion. With this fashion design course, you will learn how to make many types of ethnic clothing such as Anarkali suits, robes, lehengas and more. So if you also want to make real and elegant clothes, join our Textile Design course and learn from the experts.
FASHION ILLUSTRATION
In the Fashion Illustration course, you will be able to learn about designing wedding wear, Indo western looks, women's wear and many more things. Now you can learn how to create your fashion ideas on paper or computer right at home, even if you've never held a paintbrush before! Our courses are designed to teach you the art of drawing and fashion design, from the basics to the final product. Therefore, all you need is your creativity! With our fashion illustration courses, we'll sharpen your skills so you can design women's and men's clothing, fashion combos, festive wedding wear, create technical designs numbers and more!
FABRIC DESIGNING
Another chapter of design in the Hunar Online App is learning fabric design. Our Experts will teach you to block printing, batik, knotting, traditional Indian fabric painting techniques like warli, Madhubani and kalamkari, organic dyeing with everyday items and more. Our fabric design courses will help you to improve your skills. Therefore, sign up for the course you like and start your own skill story. Now you can learn how to improve materials by painting, printing, knitting and dyeing fabrics, from the basics to the finished product.
After this course, you will be perfect in embroidery stitching. Apart from the above, there are so many types of stitching of Kasuti Embroidery in our Fashion Designing and Garment Making Course at home. We are always ready to welcome you to our platform. Learn in your own language. Now that you know how to learn about Embroidery Designing Course at home, come and join us as soon as possible and grow in your career and life.
Also Read: Know the Various Types of Indian Embroidery
At Hunar Online, you will get access to detailed video lessons and can learn from anywhere. You will get 24/7 faculty support and a chance to learn from the experts in the industry. Also, watch our trial classes and get a glimpse of our courses. You can start learning your favourite course by downloading the app.
So, what are you waiting for? Join Hunar Online Courses and do what you always wanted to do.