Jewellery has become an integral part of every woman's life and every Indian woman has a huge collection of jewellery for different occasions. Nowadays, jewellery has become a trend and there are a variety of Indian jewellery designs that women love to flaunt.
India is a country of great diversity, where each region has its own culture and tradition, jewellery designs also differ from place-to-place. The South Indian tradition is all about celebrating the universe through the beauty of body and femininity and this is also depicted in the South-Indian jewellery designs. Women in this part of the country, love to wear jewellery and carry it with royalty. Jewellery is considered a status symbol in South India and different jewellery designs are worn on different occasions.
Marriage is a huge affair in South India and people spend lavishly on wedding ceremonies. Brides want to look perfect on their big day as marriage is a one-time thing and every girl wants it to be memorable. South Indian brides love jewellery, and they invest a large amount of money in buying the perfect jewellery for their marriage. There are different types of jewellery pieces used in a South Indian wedding like a necklace, earrings, bangles, rings, bracelets, anklets, etc. These jewellery pieces are generally made of gold. Let's have a look at different jewellery designs that South Indian brides can wear.
1.Necklace
A necklace is the most important piece of jewellery for any South Indian bride. It is the first thing that attracts people and makes the bride look stunning and adds to her beauty. These necklaces are generally made of gold and are decorated with precious stones. These precious stones could be rubies, diamonds, emeralds, garnets, etc. Lakshmi Haar, Mango Mala and Kasu Mala are the most common types of necklaces that can be seen in any South Indian wedding. They go well with every bridal attire and make the bride look gorgeous. Antique gold jewellery is also worn by the South Indian brides and it has heavy Kundan work on it. It gives the bride a royal look.
Image Source- Mirraw
2.Bangles and Bracelets
Bangles and bracelets are worn around the wrist and they are an important element of South Indian bridal jewellery. The bride's look is incomplete without bangles and bracelets. Bangles are made up of different metals like gold, silver, platinum, etc. and are engraved with precious stones like diamonds, stones, rubies, garnets, etc. Bangles are considered auspicious in the Indian tradition and they carry a traditional value, therefore, it is worn by both young girls and married women. Kadas, Valayal, Gajju, Bale and Vanki are the most common types of bangles that are worn by the South Indian brides.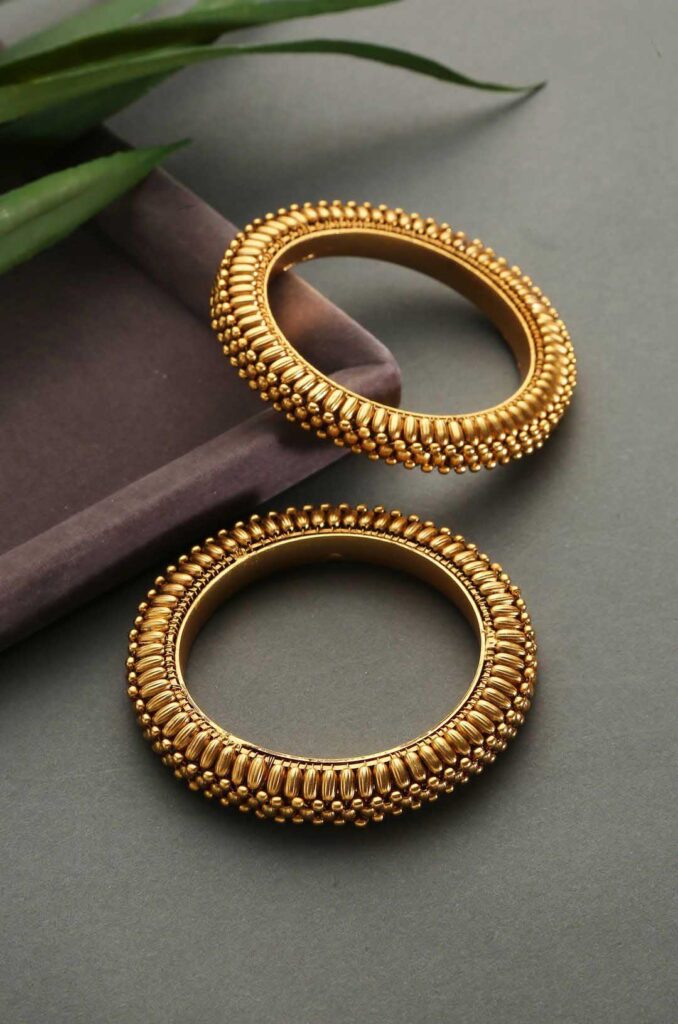 Image Source- Pinterest
3.Hair Ornaments
Hair ornaments are an essential piece of jewellery for the South Indian brides. They are engraved with precious stones and are commonly used to decorate the bun of the bride. Raakodi, also known as Juda pins, is mostly preferred by South Indian brides. Other common hair ornaments are jadanagam, nethichutti, surya pirai and chandra pirai.
Image Source- Pinterest
4.Waistbands
You will spot a waistband on the waist of every South Indian bride and it makes the bridal outfit look elegant and stunning. It is made up of different metals and is worn around the waist. In the southern culture, a waistband is known as Aranjanam, when an infant wears it but it is known as Vaddyanam, when a bride wears it. A waistband is the most important part of South Indian bridal jewellery.
5.Mangalsutra
Another vital jewellery for South Indian brides is the Mangalsutra. It originated in South India and is considered a sacred thread that depicts that the woman is now married. Mangalsutra is known by different names in different southern states. In Tamil it is known as Thaali or Thirumangalyam, in Kerala, it is known as Minnu and Elagu Thali and in Telengana, it is known as Mangalasutramu, Pustelu, Maangalyam and Ramarthaali.
6.Anklets
South Indian brides decorate every part of their outfit and this look is incomplete without anklets. They are worn in the feet and the sound of these signifies the beauty of a woman when she walks into the room. It is a tradition for a woman in South India to wear anklets on her wedding day. These are made of different metals like silver and gold.
7.Toe Rings
Married women have been wearing toe rings since ancient times. It is considered important in Indian tradition for a woman to wear a toe ring on the day of her wedding.
8.Rings
Rings are worn by every South Indian bride and are another important piece of jewellery. Depending on the different traditions, rings can be worn on the left or the right ring finger. These rings are intricately designed with precious stones and give out an elegant look. The common type of rings that are used in South Indian weddings are Vanki and Meenaz rings. These rings can be made of gold, silver, platinum, etc. but at weddings, gold jewellery is used.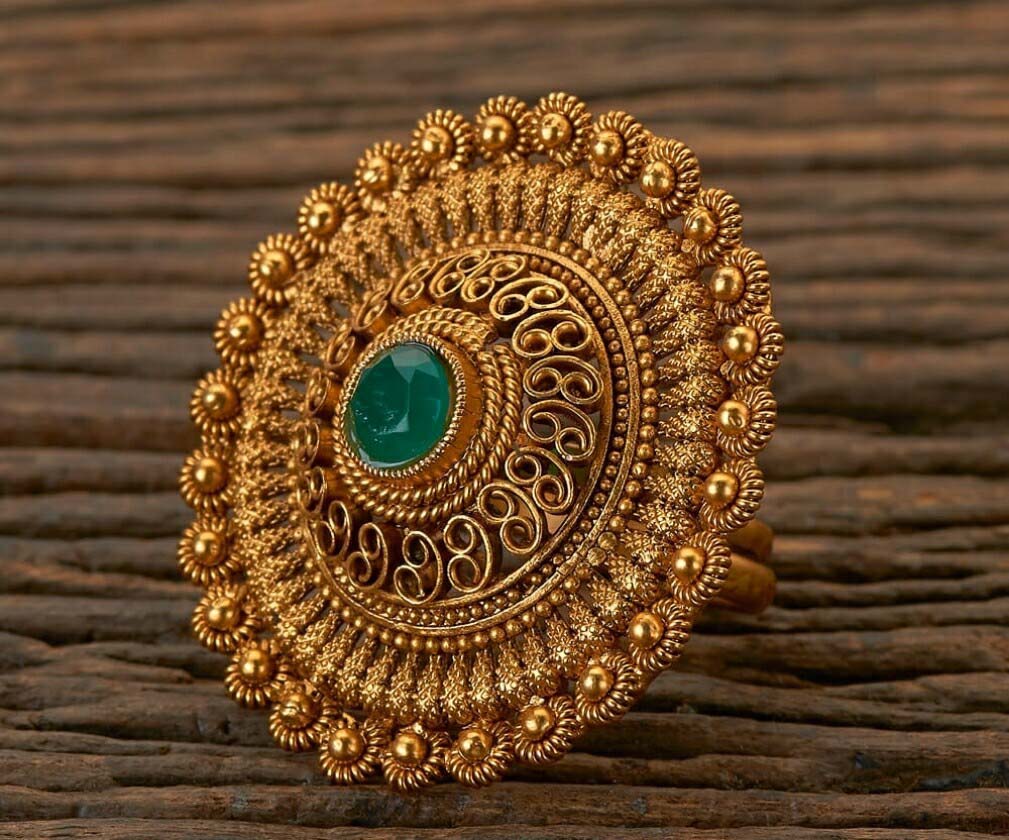 Image Source- Ecwid
South Indian brides look royal and elegant on their wedding day and every jewellery design is inspired by their tradition and culture. People assume that jewellery designing is very tough but that is not the case. To master this skill, you just need to be consistent. Hunar Online Courses offers a Jewellery Designing Course where you can use your creative skills and create different types of jewellery pieces easily for different occasions. You can enrol in our Online Jewellery Designing Courses. Hunar Online has easy video classes which are accessible every time and you can learn from anywhere. You also get 24/7 faculty support which will help you clear your doubts.
So, what are you waiting for? Join Hunar Online Courses and start paving a new path to your career.