Machine Embroidery Designs deal with hand embroidery and machine as well. It refers to the process of creating patterns on your favourite fabric using a sewing machine or a specific embroidery machine. It is most commonly used commercially as it is an excellent tool for branding products and uniforms, but it can also be used to create patterns for purely decorative purposes.
There are two main types of embroidery: Free Motion Embroidery and Computer Embroidery. Machine Embroidery Designs capabilities vary and all require different levels of user input. Some require the thread colour to be changed during the process, while others can automatically trim and change colour. In addition, multi-needle sewing machines can be configured with multiple sewing heads, so multiple garments can be embroidered at the same time.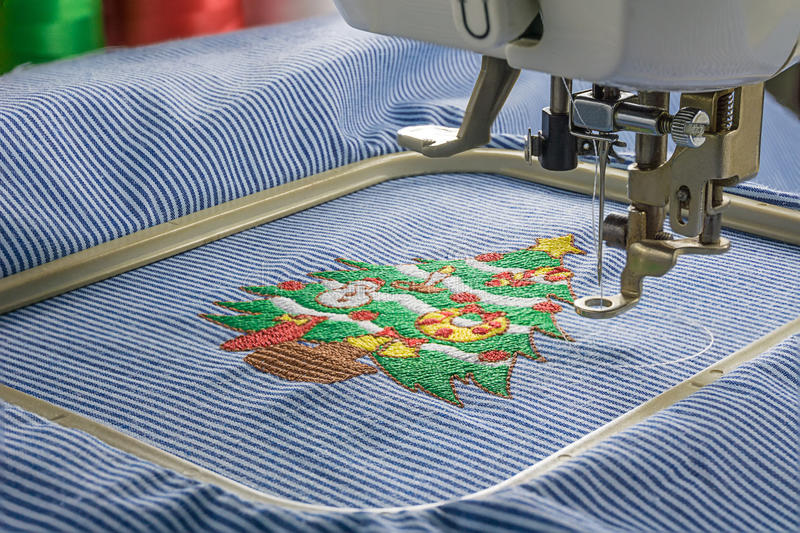 Source: Dreamstime
1.ABSTRACT
Abstract Embroidery is a combination of colours and textures. Abstract art is art that does not use recognizable representations of physical objects. Instead, use colours, lines, and shapes to express your message.
2.ALPHABETS
Script alphabets can be used to personalise your projects with lettering. Works well with either a satin stitch foot or an open-toe foot.
3.APPLIQUE
Appliqué is a sewing technique in which patches of fabric are superimposed over a base fabric, sewn into place by hand or by machine, and the raw edges are folded back or covered with decorative stitches.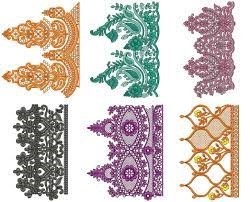 Source: EmbDesignTube.com
4.BORDER
A border design is a pattern that runs vertically along the edge of a fabric or garment. Different types of Machine Embroidery Designs are used in modern embroidery, including outlines, fills, lettering, for border designs.
5.CUTWORK
Cutwork is usually considered part of the white work. It is used to decorate table linens, fine towels, curtains, bedding, church linens, and even clothing.
6.EMBELLISHMENTS
Decoration is a beautiful feature of clothing. They serve as decorative details to make our clothes more visually appealing. When clothing is a source of income, adding decoration increases the value of the item.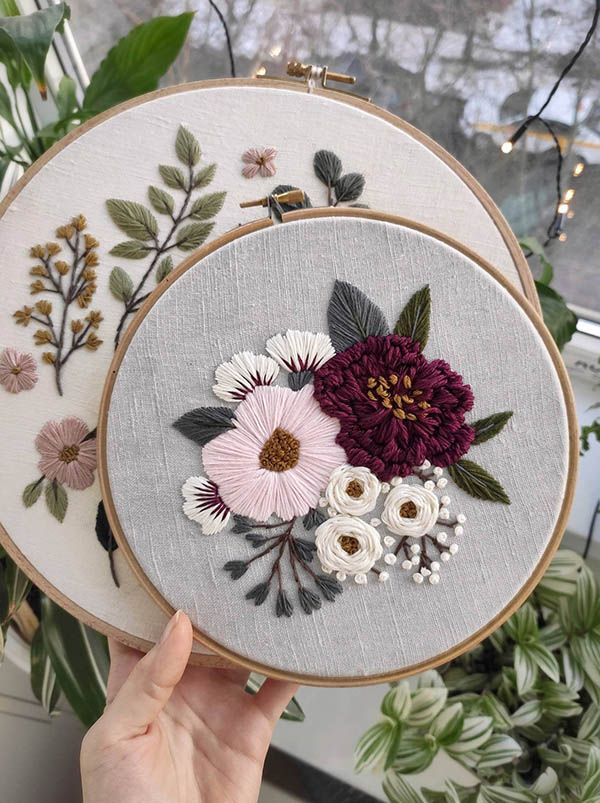 Source: Pinterest
7.FLORAL
Floral designs are the art of creating floral arrangements in vases, bowls, baskets, and other containers, as well as creating bouquets and compositions from cut flowers, herbs, ornamental grasses, and other botanical materials.
8.FRINGE
The fringe prints refer to the alternating bands of dark and red that are produced on the screen, while the border refers to the alternating bands of light and dark.
9.HEIRLOOM
Heirloom tailoring is defined by thin fabrics, usually sheer, often cotton or white linen, adorned with a variety of laces, clasps, pleats, narrow ribbons, and jackets.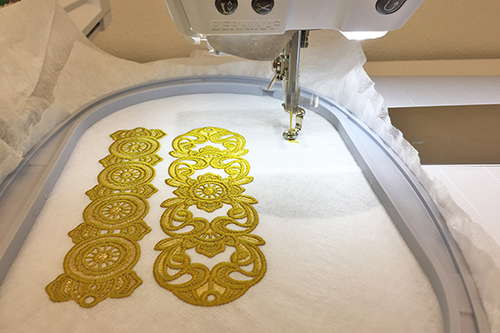 Source: WeAllSew
10.FREE STANDING LACE
Free standing lace or FSL is basically an object made entirely of thread that you sew on your embroidery machine and shaped like lace.
11.MASCOT
A mascot is defined as an illustrated character representing a company. You can think of the mascot as a spokesperson or brand ambassador.
12.NAUTICAL
Nautical embroidery is the art of decorating fabric with maritime symbols using a needle to apply thread or thread. Embroidery can also incorporate other materials such as beads, pearls, quills and sequins.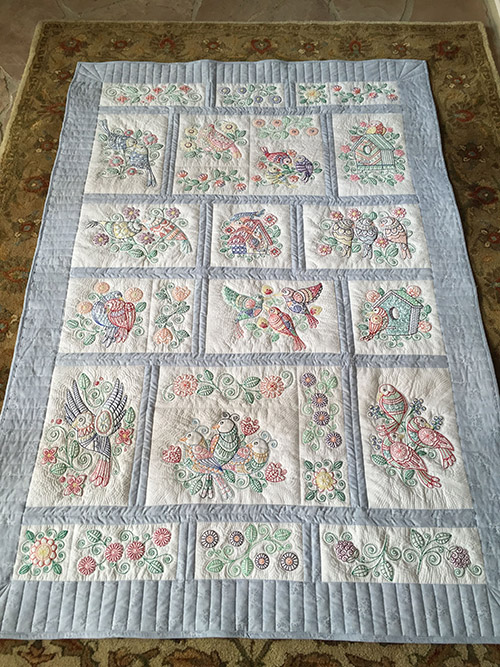 Source: Pinterest
13.QUILTING
Quilting stitches are made with white thread or a colour matching the fabric. The goal of quilting is to get small, even stitches.
14.REALISTIC
Realistic Design is practically the art of sewing fabric using different types of thread to create attractive patterns. Basic techniques include sailing, needlework, cross stitching, and quilting, as well as quill and feather work.
15.REDWORK
Red work is an American form of embroidery, also known as fine embroidery that developed in the 19th century. Traditionally it uses red yarn, chosen because red dye is a commercially available colorfast dye.
16.PHRASES
This is a quick and easy way to iron printed images directly onto fabric. It does not get much easier than ironing a pre-cut attachment letter onto fabric.
Source: www.embroiderys.com
17.SYMBOL AND SHAPES
To use abbreviations, monograms, numbers, shapes, or embroidered words to refer to the maker or owner of an object, such as a towel, tablecloth, or clothing.
18.SPLIT DESIGNS
Split Machine Embroidery Designs can be used for contour, body line, single stitch, fill line, or as padding under other stitches. The base fabric can be plain and must be kept taut in the loop or frame during sewing.
Hunar Online Courses offering Embroidery and Fashion Designing Courses. We are always ready to welcome you on our platform. Learn in your own language. Now that you know how to start learning fashion and embroidery skills at home, blend all your creativity together and colour those on the canvas of your stitching hoop.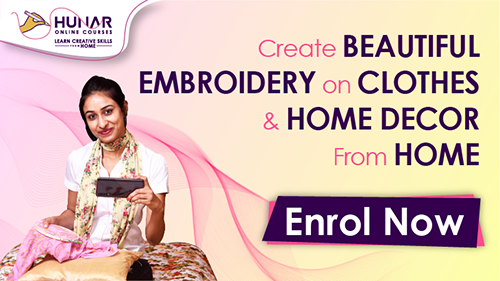 Also Read: 9 Different Types of Embroidery Stitches
At Hunar Online, you will get access to detailed video lessons and can learn from anywhere. You will get 24/7 faculty support and a chance to learn from the experts in the industry. You can also watch our trial classes and get a glimpse of our courses. You can start learning your favourite course by downloading the app.
So, what are you waiting for? Join Hunar Online Courses and do what you always wanted to do.