Saree is one of the most loved Indian outfits and is a perfect pick for any occasion. It is ethnic and the most elegant attire of the Indian subcontinent which is loved by every woman. It is great for special occasions like wedding functions, reception parties and festivals. There are a variety of saree designs and the rich culture and heritage of India inspires the fashion designs of the saree. You'll find different designs of sarees in different states.
With the onset of various fashion trends the designs of the sarees have been modernised too. At the same time, not everyone drapes a saree in the same style. There are different ways to wear a saree and most of the time the draping style of a saree is influenced by the tradition of that state like Gujarati drape, Maharashtrian drape and much more. You can also drape one saree in various ways to get a different look every time. Many fashion designers experiment with different draping styles to create a new fashion trend.
There are many trendy ways to drape a saree which can make you look stunning and make you ready for a party in an instant. Let's have a look at the different saree draping styles one by one:
1. Pleated Saree Drape
This style of draping a saree is very common and it can be seen everywhere. This draping style works for every type of saree, be it a kanjeevaram silk saree or a heavily embroidered bridal saree. The most preferred saree for a pleated drape style is cotton saree. The elegance of a pleated cotton saree with a high neck blouse is something to die for. One should definitely try this look at least once. If you are someone who doesn't want to experiment with different saree draping styles and still want an elegant look, then this style is perfect for you.
2. Floaty or a Casual Drape
This is one of the easiest saree drapes to carry off and it can be done very easily too. This drape style is a great choice for weddings. You can flaunt the design of your heavily embroidered saree. Other types of sarees that are great for casual drape are pattu sarees, light weight sarees and net sarees. You can drape these sarees casually and secure the pallu with a pin or a designer brooch. When you drape a saree in this style try to pair it with a backless blouse or a zipper blouse. This will make you look elegant and graceful.
Image Source- Fashionwebz
3. Gujarati Style Saree Drape
This saree draping style is very popular in Gujarat. Traditionally it was worn by the Gujarati women but this style has been a go to choice for many. You can see many bridal sarees draped in this style. This draping style is a favourite choice for bridal sarees. You can keep the pallu long or short as per your choice. The best sarees to style with Gujarati drape are Banarasi Sarees, Patola Sarees, Bhandini Sarees and Leharia Sarees. You can try this drape style if you want a contemporary look with a traditional touch.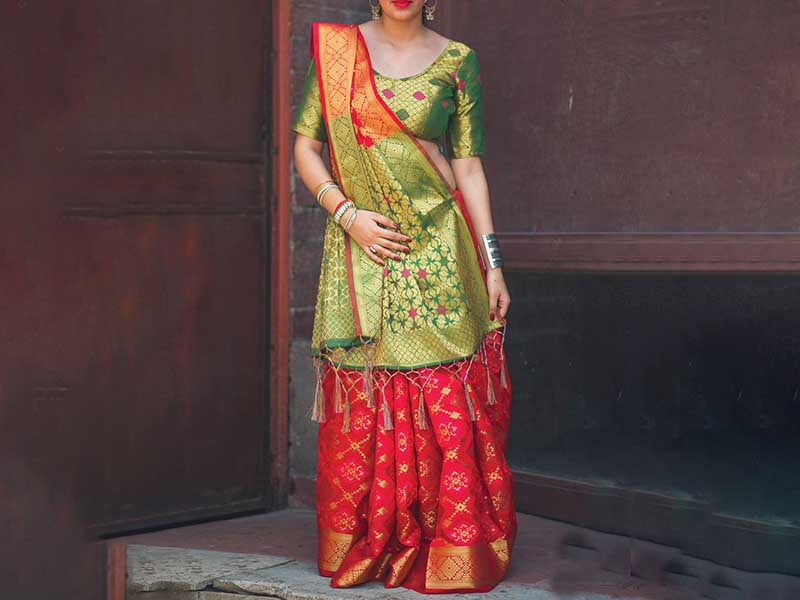 Image Source- Pasteur Institute of India
4. Pant Style Saree Drape
This is the modern saree draping style. It came into fashion with the changing trends and is one of the most loved saree draping styles. It is easy to wear and is mostly readymade. You can wear it easily and get a glam look. You can drape a saree in this style for a cocktail party and evening parties. As a bride this style would be best for mehendi or sangeet function. This draping style highlights the confident side of your personality.
Also Read: Latest Saree Blouse Designs to Bring Out the Fashionista in You!
5. Dhoti Style Saree Draping
This style of draping a saree is very similar to the pant style saree draping. It is a mix of tradition and modern. This style was popularised by many gorgeous Indian actresses like Shilpa Shetty, Sonam Kapoor, Samantha and many others. It is very comfortable to carry and just like the pant style saree this also comes in a readymade form most of the time, so you can wear it easily too. It is best for receptions and parties and gives you a hint of modernity while carrying a traditional attire.
6. Belted Saree Draping Style
This draping style of a saree took the fashion industry by a wave. It is inspired by the traditional waist chains on the bridal sarees. You can wear any type of belt with a saree but make sure that it complements the saree well. You can pair a thin belt, heavy embroidered belt or even a cloth belt with your saree. You can look up to the different B-town celebs to get inspiration.
Image Source- BP Guide India
Saree, for a woman, is a way to express herself and the beauty of it increased a thousand times by opting for the right kind of draping style. You can style your saree in any style depending on the type of draping style that you choose to wear.
Hunar Online Courses offers a Garment Making Course where you can use your creative skills and learn to make different types of saree blouses and other garments. You can enrol in our Online Garment Making Courses. At Hunar Online, you will get access to detailed video lessons and can learn from anywhere. You will get 24/7 faculty support and a chance to learn from the experts of the industry.
 So, what are you waiting for? Join Hunar Online Courses and start making a new path to your career.