Embroidery is an intricate and beautiful art of adding designs to a plain fabric by simply using some set stitching techniques. When it comes to embroidery designs, people generally have their own style that they love to wear. There is a vast variety of designs that one can pick from when choosing to decorate fabrics with embroidery. Hand embroidery designs have been practiced in India since a really long time. Indians are very close to art forms such as embroidery that have been practiced and passed on since generations. When it comes to different patterns of embroidery, the choice of picking a particular design generally depends on the kind of fabric that is being made.
On most occasions, it can be observed that Indian embroidery designs are particularly used on fabrics like sarees, kurtis or dresses. Whereas western embroidery designs are used for designing home décor fabrics such as quilts, cushion covers, table clothes etc. This major difference is because of the look and feel that a certain embroidery technique produces. Let us look at the different patterns created while using Indian and Western embroidery to understand the variations in both.
Indian Embroidery Designs
1.Zardozi Embroidery:
Zardozi work is just an extension of the Indian zari work that is popular among everyone. This embroidery design gives out a grand look that makes the fabric look festive. Gold or silver threads are majorly used for doing this kind of embroidery which is why it is extensively used while designing fabrics for any special occasion. While using this style of embroidery design, the fabric designers generally also use beads, wires, stones and other decorative material. By the look and feel of this style of embroidery one can clearly understand the Indian influence that it carries.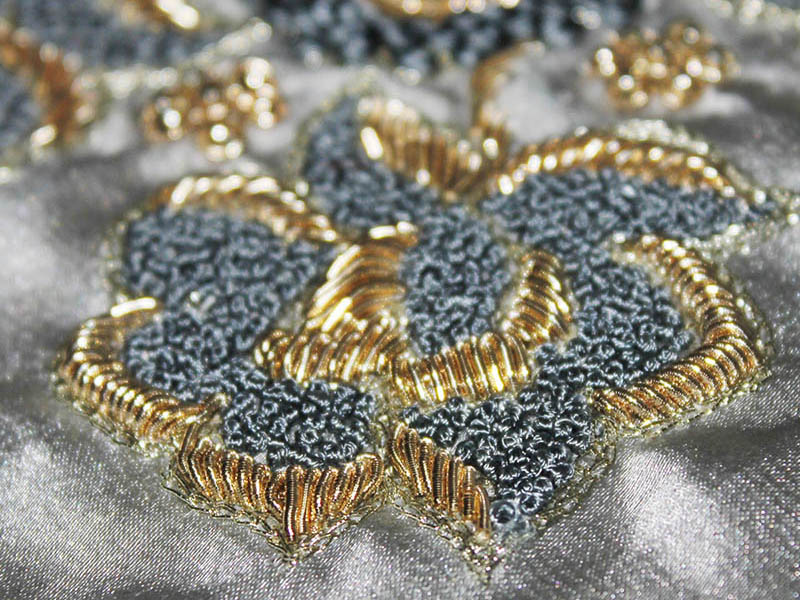 Image Source: Wikipedia
2.Rajasthani Patchwork:
One of the most loved designs by tourists who travel to India, this form of embroidery design originated in the state of Rajasthan. Rajasthan is known for its rich and colourful culture of art, music and food. The culture of the state also reflects on these embroidery designs. While using the Rajasthani Patchwork style of embroidery, fabrics of different colours are cut in small pieces and stitched back together to create a bigger piece of fabric. These kinds of patterns can generally be seen on ghargras, lehengaas and also some home décor fabrics like quilts or curtains.
Image Source: Pinterest
3.Kashidakiri
This embroidery design is heavily inspired by the Persian culture but over the years has gained immense popularity in India. The Kashidakiri embroidery pattern is mostly practiced in the state of Kashmir but has created an identity for itself of being intricate, colourful and absolutely stunning. These embroidery designs are extremely popular around the world since they are unique and only a skilled artist from India would be able to execute them perfectly. The designs created using this pattern are mostly inspired by floral patterns and leaves and do not focus too much on animal prints or patterns. There is a huge difference between this Indian hand embroidery design when compared to any other western embroidery pattern which can be easily identifiable.
Image Source: Utsavpedia
Western Embroidery Designs
1.The French Knot
One of the most well-known western embroidery designs is the French knot technique. This technique is simple in the sense that it is easy to execute but the look and feel created by this technique is very fresh. The French knot basically means knotting the fabric in the same spot more than once and creating a thick pattern. Different colours of threads are used for creating patterns like flower bunches, fruit bunches and leaves. Mostly this kind of technique is used for designing home décor fabrics but a lot can be done if Indian style floral patterns are created using the French knot technique.
Image Source: Pumora
2.The Lazy Daisy
This embroidery design has the most fun name which perfectly described the feel created using this embroidery technique. The lazy daisy embroidery technique, as the name suggests, is very loosely done in a way that simple patterns can be created. The embroidery designs created using this technique are not so closely packed but still give out a beautiful look. The designs created using this technique are pleasing to look at and can be made using different colours. The lazy daisy technique is mostly used on home décor fabrics like curtains, tablecloths etc., but in the recent times many Indian fabric designers are using these on fabrics.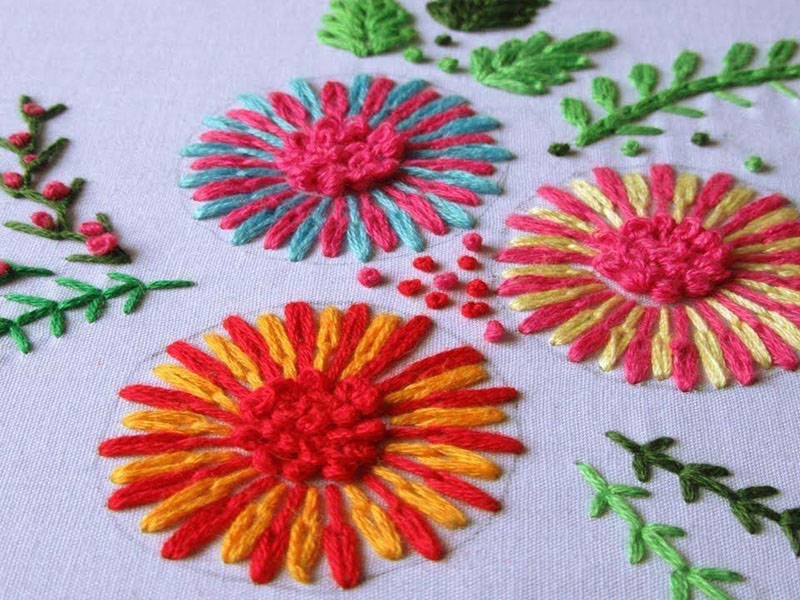 Image Source: Pinterest
3.Bullion Knot
The bullion knot is an interesting embroidery technique that is a little complicated to execute at first but gives out a very fulfilling look. This technique is also called as the caterpillar stitch since it looks like the shape of a caterpillar when seen from above. This is one Western embroidery technique that is now being used on home décor fabrics and dresses. Most of the embroidery designs created using this style of knotting are used to make dense structures and give a 3D feel to the fabric.
The major difference between Indian and Western embroidery patterns is that Indian designs are extremely intricate and are heavily inspired by the culture of India. Western embroidery designs are majorly used for creating simple motifs and cannot create a grand look like any other Indian embroidery pattern would.
Hunar Online Courses is a platform that offers an array of courses in the field of fashion designing. Hunar Online offers easy access to online embroidery classes that you can take from the comfort of your homes. Hunar Online, provides certificates after completing your course that are sure to help you start your own business. For all courses, Hunar Online provides sessions with experts who are available 24/7 to clarify your doubts and help you every step of the way.
So, what are you waiting for? Sign up for a creative course with Hunar Online today.