Wedding and Festive Season are coming soon! Here we are sharing 14 types of trending bridal jewellery. If you are a bride-to-be or your sister or your best friend is getting married soon, then this blog is written for you only. Here is this list:-
Magical Maang Teeka
Maang Teeka is the most important ornament for every bride. This not only enhances the beauty of the head but also gives a good look on the face. It should be kept in mind that do not wear too heavy or wide maang teeka on the wedding day, otherwise, it can spoil your look.
Source: Urban Company
Beautiful Maatha Patti
Maatha Patti will cherish your look pleasantly. Nowadays the trend of forehead bands or maatha Patti has increased. It should be worn only on the day of engagement or sangeet, for marriage, it is only right. It will go great with Anarkali or a bridal gown.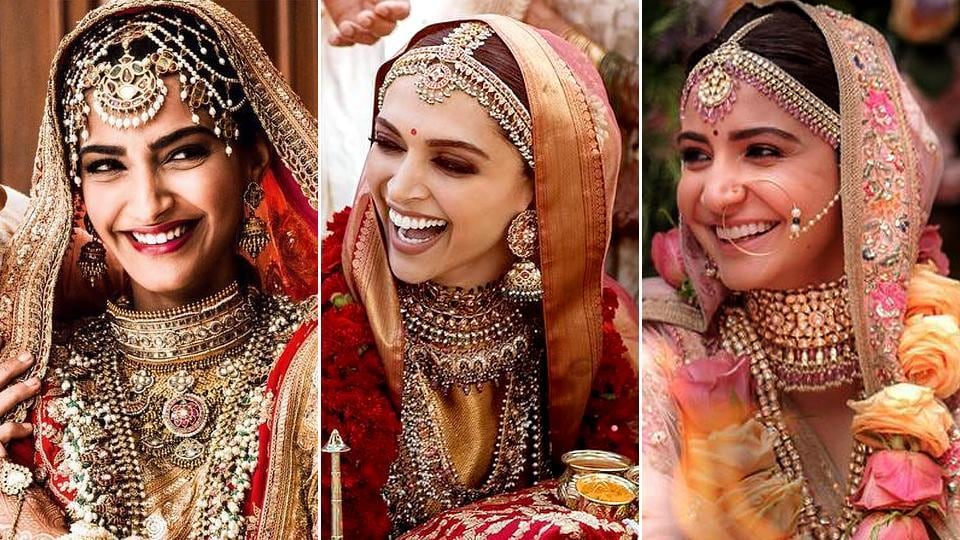 Source: Hindustan Times
Dazzling Chaand Baliyan
If there is talk of earrings and the Chaand Baliyan does not come about earrings, then it will be unfair. Chaand Baliyan is not only beautiful to look at, but also adds beauty to your face. In Punjabi weddings, brides are often seen in Chand baali.
Source: Anuradha Art Jewellery
Embracing Nath
The most visible jewel in the bride's makeup is the nath. A nice beautiful nath enhances the beauty of the bride. Nowadays, there is a trend of increased nath. Most of the Garhwali and Uttarakhandi brides wear the largest size nose ring.
Source: Shaadi Wish
Shiny Jhoomar
Jhoomar should not be worn with maang teeka or it is good to wear it with light maang teeka. Remember, if you are wearing a heavy teeka or forehead band, do not wear jhoomar. This will not only spoil your look but will also make your head heavy.
Source: BollywoodShaadis
Broad Bridal Choker
A bridal choker is a great alternative to a necklace. Stuffed bran is in fashion these days. If a bride's Lehenga or Saree is not too full or does not have heavy embroidery in it, then this choker makes up for its lack. It is the best replacement for layered bridal necklaces.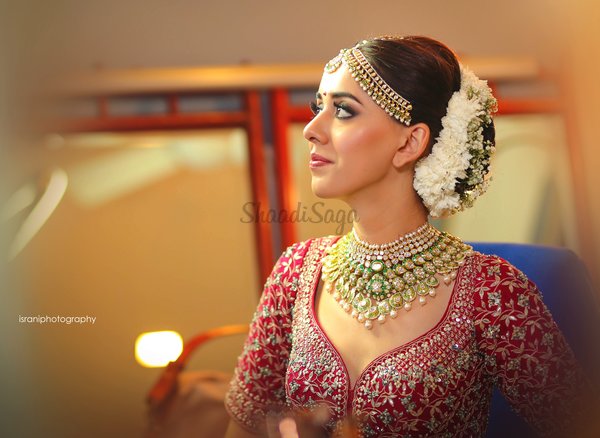 Source: Wedding Bazar
Customised Kaleera
Kaleera is the hallmark of Punjabi jewellery. There it is considered auspicious. It started from there but nowadays all types of brides like to wear it. Nowadays customised kaleera of your choice is also available in the market. You can buy or customise it with your desired designs.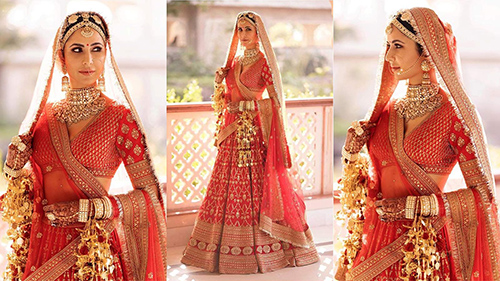 Source: Zee Zest
Various types and sizes of Haath Phools are available like, Stylish, Bridal, Gold, Kundan, and Simple.
Handy Hath Phool
Source: Shaadi dukan
Stylish Kamarband
Kamarband is a belly chain or waist belt that is usually worn around the waist. The designs are different in North India and South India. Waist belts are often called Vadannam, oddiyanam, kamarband or kamarpatta based on different regions and cultures of India. The main focus here is Vadannam.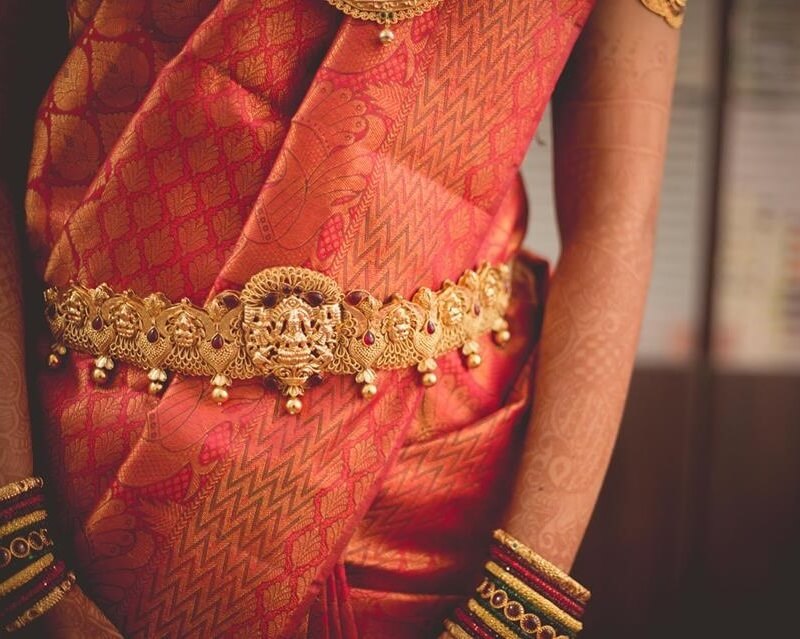 Source: Royal Pepper Banquets
Designer Anklets
Anklets are the one who completes any bridal feet. Nowadays, many types of anklets are available in the markets. This tradition has been going on since the time of our grandmothers that anklets should be made of silver only. But nowadays brides are wearing gold anklets and artificial ones as well.
Source: Pinterest
The Rajputana Vintage Collections
Rajput Collection for bridal jewellery is an evergreen designs. It works equally, no matter what is the trends or trending bridal jewellery.
Source: Pinterest
Lotus Motif Jewels
Motif jewellery is trending these days. If we talk about trending bridal jewellery, lotus motif jewellery is a beautiful choice for an evening wedding. Also lotus motif design with polki sets will make your look perfect. Apart from weddings, you can also try this for events also.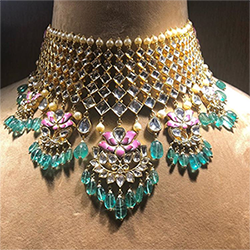 Source: Pinterest
Popular Polki Designs
These days' Polki designs are also in a lot of discussion. Nowadays, Brides choosing these polki jewellery set in her marriage. Here, we will suggest wearing polki sets with light shades of wedding outfits, like pastel, light pink, white, etc. It will embrace your makeup also.
Source: Krishna Jewellers
Temple Jewellery
Although temple jewellery is worn at South Indian weddings, it is in trend these days. Whether the wedding is North or South, brides wear it with great passion. Temple Jewellery is a traditional ornament that goes well with a saree.
Source: Pinterest
Apart from the above, in a couple of months, there are many ways to learn the latest jewellery trends at your home. Hunar Online Courses offers Jewellery Designing Courses at home. We are always ready to welcome you to our platform. Learn in your language. Now that you know how to learn about the trending bridal jewellery at home, draw all your creativity and be ready to glow on the special day of your life.
Also Read: Scope of Gold Jewellery Designing in India
At Hunar Online, you will get access to detailed video lessons and can learn from anywhere. You will get 24/7 faculty support and a chance to learn from the experts in the industry. You can also watch our trial classes and get a glimpse of our courses. You can start learning your favourite course by downloading the app.
So, what are you waiting for? Join Hunar Online Courses and do what you always wanted to do.