Bridal Makeup is an art of makeup and also the toughest job in beauty. This Bridal Makeup Course blog is about knowing and learning to become a Makeup Artist. Hunar Online courses are always ready to guide their students. Here we are sharing about the Bridal Makeup Course, in which all the important things you will learn. Let's have a look: –
Technical Gain
Knowledge of products and tools
First thing that comes to mind, when we say makeup? Obviously Makeup products. Markets are full of makeup products and tools with original and fake copy as well. Here you will be able to know about the use of the right makeup product. Bridal Makeup Courses are not just about facial makeover but also consist of learning of beauty products and accessories.
Concealing and colour correction
Bridal looks needed perfection. At the time of colour correction or eye makeup, you should always go for opposite colours. If you apply, you can make your concealer work better for you. Concealer should be applied underneath concealer to camouflage pigmentation creating a neutral palette.
Contouring and Highlighting techniques
Highlighter is used for focusing face points which highlight when light rays come on skin. Contouring enhances shadows, while highlighting streaks and enhancing upper face areas. So with this combination of light and shadow, you can subtly redefine and modify your features. Highlight is just the opposite of contouring.
Avoid using harsh rubbing or rubbing methods. Gentle touch and gentle circular motions will be enough to remove eye makeup without damaging the skin. Wash your face with a mild detergent after removing the cloth towel.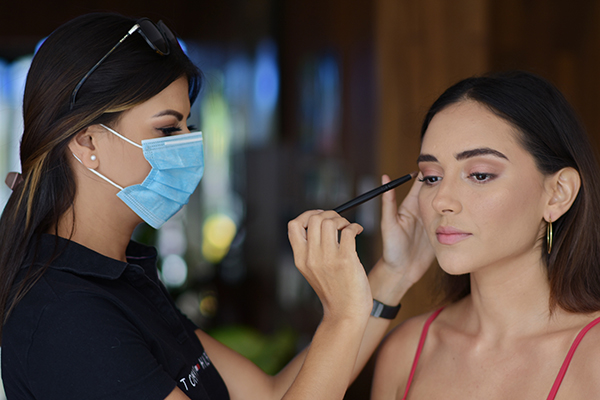 Bridal Looks That You Can Learn
All types of bridal makeup are covered in this Bridal Makeup Course.
Various Types of Bridal Looks
Bridal Makeup Course says that always choose makeup that matches your skin tone and outfit. Don't choose a glance simply because it will not go with trends. Pick a style that suits you and make it a trend. Also, base your look on whether it is a day or night wedding. It really makes an enormous difference. Seek for bridal makeup images to inspire you if you need to. Moderation is the new charm. Don't go overboard with photo makeup. You want to look heavier than usual. But you do not want to finish up with slick, overblown makeup just to appear perfect in your wedding photos.
Along with the North Indian Wedding looks Bridal Makeup Course offers South Indian Bridal looks also. No makeup looks are usually preferred in these types of bridal looks.
Apart from makeup looks and style, Hunar online Bridal Makeup Course also provide the basic consultations to our students-
How to plan a wedding
Bridal consultations
If you are going to be a bride soon, then the following tips are a must for you.
Make a list about every necessary thing.
Book pre appointment.
Prepare your mind with your looks.
Drink a lot of water.
Choose a makeup style that will go with your wedding apparel.
If possible then ask for a makeup trial.
Apart from the above, there are so many ways to learn a Bridal Makeup Course at home, within a couple of months of hard work. We are always ready to welcome you on our platform. Learn in your own language. Now that you know how to learn about Bridal Makeup Course, draw all your creativity together and fill your palette out with the colours of your creativity.
Also Read: Feel the Joy of Knowing How to Become a Makeup Artist
At Hunar Online, you will get access to detailed video lessons and can learn from anywhere. You will get 24/7 faculty support and a chance to learn from the experts in the industry. You can also watch our trial classes and get a glimpse of our courses. You can start learning your favourite course by downloading the app.
So, what are you waiting for? Join Hunar Online Courses and do what you always wanted to do.