Hand-quilting is one of the embroidery designing techniques that has been loved by many and has been popular for a long time. In it, dashed lines of stitches are created, which give the quilt a soft look. Hand quilting is basically stitching different layers of fabrics using an insulating interior layer in the middle. The history of it can be traced back to 3400 BCE. It was created for the basic need of people so that they can keep themselves physically protected and insulated.
Today however, things have changed. Now, many decorative elements are added in hand-quilting. Because of the popularity of embroidery these days, many institutes are offering embroidery courses.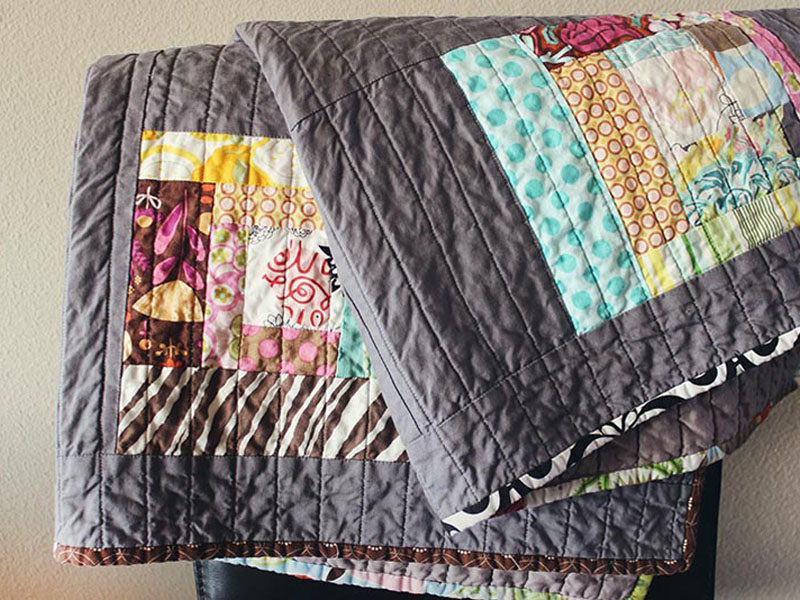 Image Source- Unsplash
There are different tools used for quilting. Before you start, you must collect all the tools required for creating the right designs. Here's a list of all the supplies required:
Frame or Hoop
To get an even and smaller stitch, it is best to use a frame or a hoop for hand-quilting. It keeps the fabric stretched and you can work on smaller details more easily. A frame ensures that both your hands are free at the time of stitching. The hoops are easily portable and less expensive. Quilting hoops are deeper than embroidery hoops because of the thickness of the quilt layers. Once the hoop is set up, it cannot be disassembled until the quilting is complete.
Needles
Needles are the most important of all hand-quilting tools. The common sizes that are used are 8, 9 and 10. For beginners, the best size is 8.
Thimble
A thimble is a covering that is used to protect your fingers while sewing and stitching. It is helpful in quilting as it relieves the pressure required to push the needle down through several layers of fabric.
Thread
No quilting can ever be done without a thread. It is the most important material required. For hand-quilting, cotton threads are preferred because they are strong and can hold many layers of fabric in place.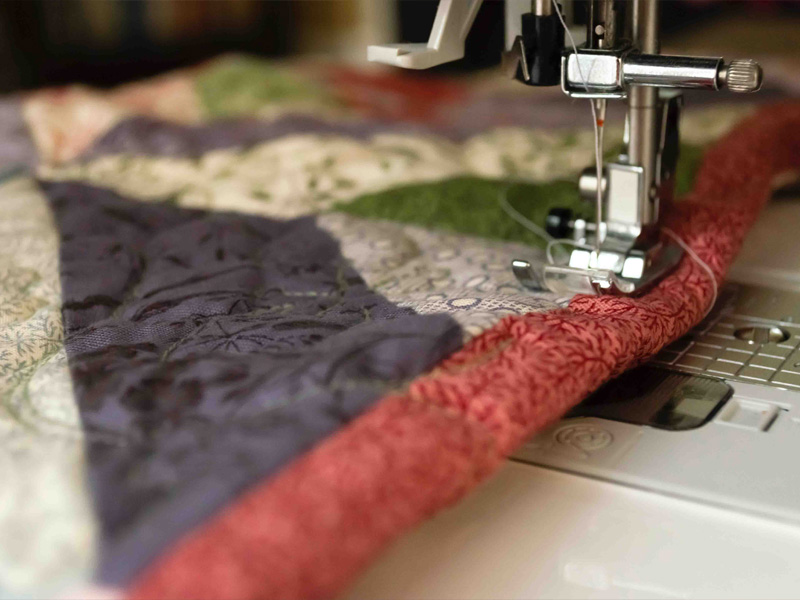 Image Source- Unsplash
Now that you know about all the supplies required for hand-quilting, let's see the basic steps of involved in it.
1.Cut the thread
The first step in hand-quilting is cutting the thread of an optimum length. It should be around 18" long. A thread of any other length longer than that will tangle and cause you uneasiness while stitching and any length shorter than that will make your switch between the threads. After you have the perfect length of thread, put the thread into the needle and tie a knot at the end of it. While sewing, pull the thread and needle out of the quilt and bring it back to the same spot. Give a slight tug to the knot, so that it hides nicely in the quilt.
2.Start stitching
Small and even stitches are the most important part of hand-quilting. As a beginner, your goal must be to get 6 stitches per inch. Afterwards, when you become more skilled you can try for 8 to 12 stitches per inch. Make sure you keep one hand underneath the quilt so that sewing becomes easy.
3.Load the stitches
As you sew in the quilt, make sure that you don't pull away from the thread all at once. Instead, load only two to three stitches and then pull the thread. This way the sewing will be done properly and evenly. Continue this process, until you are done quilting a particular piece.
Image Source- Pinterest
At times people tend to get confused between hand-quilting and machine quilting. Hand-quilting is an age-old embroidery technique and people do it for the satisfaction and enjoyment they receive out of it. It is sewed by hand and the crafter holds pride in it. Many quilters believe that hand-quilting is equal to therapy and they find it very calming. The appearance of hand-quilting is not as fresh as machine quilting. The fabric is looser than those quilted by the machine. If you love to do hand-quilting and do it very frequently then it would be a wise choice to invest in a floor frame or standing hoop. It helps in preventing errors and helps you work efficiently.
Machine quilting is a good choice for making big size quilts. There are many advanced sewing machines that include a variety of features. Some machines have both embroidery and quilting technology. Quilts made on the machine have a crisper fabric and look more professional. It is also sewn tightly which gives it a neat look. It is advisable to not take large orders for machine quilting if you have not mastered the technique properly. If you have to make large quilts then machine quilting is recommended. However, there are certain things you must keep in mind before choosing between hand-quilting and machine quilting.
Size
You may want a baby quilt or a larger quilt to fit your king or queen-sized bed. Make sure that you choose the right technique to get a good finish. Machine quilting would be more preferable for large size quilts.
Fabric
Some fabrics are easy to handle, so you can make quilts using them with the help of hand-quilting. But some fabric requires machine quilting, no matter what its size.
Image Source- Wendy's Quilts and More- blogger
Hand-quilting, being an age-old technique, is loved by many and is also the most popular. People assume that hand-quilting is very tough but that is not the case. To master this skill, you just need to be consistent. Hunar Online Courses offers a Fabric Designing Course where you can use your creative skills and create different types of quilts yourself. You can enrol in our Online Fabric Designing Courses today. Hunar Online provides you access to video tutorials and gives you the freedom to learn from the comfort of your home. Hunar Online has successfully helped women start their own boutiques and create meaningful brands.
So, if you are passionate about fashion and have been waiting for the right opportunity to start your own business, this is it.