Fashion Illustration is an idea which you put on paper using your imagination. In simpler language, the representation of your fashion designing thoughts when drawn on a paper is fashion illustration. It is the first step towards the creation of designing an outfit. These illustrations are fashion design sketches to create an idealizing human figure with clothes, jewellery and other accessories to show how your final design should look.
The design and attitude of your model are very important as it shows how you want to convey your design to look. This helps the designer to then bring your fashion design drawing to life. The fashion sketch does not always have to be perfect for the final desired output. It can also be an outline or an idea of how they want their design to be. The fashion design drawing may or may not contain colour combinations, embellishments, hairstyles, pocket positions and other accessories.
Image Source- Pinterest
All these fashion designs and their drawings can be done by anybody and it does not matter if you have never drawn before either. There are various options which you can use to create your desired sketches. You can try drawing simple bodice and also find them online in different poses. Next, just put your designs on them. There are also many software for fashion sketches you can use for quick help. You can even buy templates of models from many companies or illustrators to lay down your designs.
However, to know how to draw is an asset in the world of fashion designing. It makes your work easier as there won't be a lot of back and forth between you and the other help you are taking. You can learn fashion illustration easily, especially with so many online platforms who give you amazing guidance and assistance.
Image Source- Current School News
Materials Required to Start Fashion Design Drawing
There are not a lot of materials you require and all of these materials are available in your locality. You don't have to search for them either as these are basic stationery items like
Pencils- To draw you need a pencil, obviously. Get different thickness in pencils like 2B, B and HB, which are used for drawing shapes. You can use 4B, 6B and 8B for shading and highlighting. You can also use charcoal but sometimes it could create a mess.
Bond paper 80 gsm- The quality of the paper is important because you don't want your design to fade away after a few days or months. This is why you should use handmade paper with a rough texture for practice. The best kind of paper for sketching, drawing and painting is called Cartridge paper. This paper comes in different weights as per sizes like A1, A2, A3 and A4.
A Sketchbook- In case, you don't want to get lost in papers then you can buy a sketchbook as per your need of papers. This can also be found at a stationery in your locality.
Colour Pencils- You will need to fill colours in your design to show the designer or for yourself to pass the information about the fabric required to be used during the creation of your design.
Scales & French Curve- Another important part of stationery which is needed during fashion drawing are a scale and French Curve. You need a scale to draw straight and proper lines. A French curve is used to draw the curves on your bodice and dress.
Image Source- MasterClass
How to Design Bodice in Fashion Sketches
The properties which you want to show are made clear from the beginning. For example, if you want to show off the sleeves then the focus on sleeves is more than the rest of the bodice while drawing the model. This is why the pose of the model should be decided at the start depending on the primary asset of your design. The hands, legs and body are the primary parts which you surely draw.
Apart from that, you can draw detailing of face, hairstyle and gestures for better understanding of your overall design. The fashion design drawing of your model does not need to be the same as the actual human body. You can exaggerate as per your need and the design to look attractive.
When you start fashion illustration, you will create your own style of designing the bodice and then putting clothes on it. Every artist has their way of doing things and fashion illustration is not different either. If you compare a fashion drawing and the actual human body, you will notice a few differences. The legs can be seen elongated in fashion sketches along with neck and waist. This exaggeration is used to glorify the design.
Image Source- wikiHow
Fashion Design Drawing Aspects
The whole point of fashion illustration is to highlight the design of the clothes you have in mind. So, always keep that in mind. All the model poses, exaggeration of body parts and everything else is done so the outfit you are drawing looks great on paper and is helpful in the creation of the final output. Other drawing parts like hairstyle, jewellery and other accessories are secondary and are only to complement your outfit.
You can also create drapes and folds in your design to make it look more appealing. You can even show the texture of the fabric you want to be used in the creation of your design. How to do it? Practice! Take a pencil and paper, start illustrating.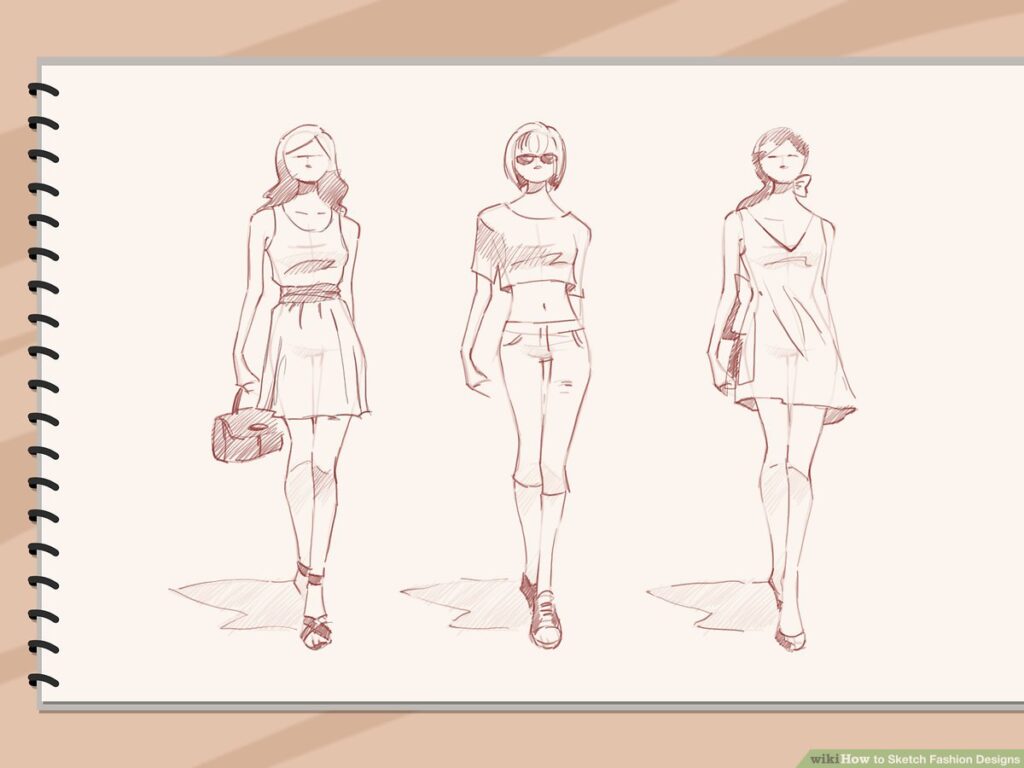 Image Source- Pinterest
You can also join a fashion illustration course at Hunar Online Courses and get help from experts. You will be mentored by Neeta Lulla, a 4-time national award-winning fashion designer. She has also designed outfits for many Bollywood movies. To kickstart your career in the world of fashion illustration and fashion designing, you will be certified by the Govt. of India and Hunar Online upon completion of your course.