Jewellery designing is an intricate art form that requires the right vision and creative thinking. India is a land known for creating some of the most marvellous pieces of jewellery throughout history. Every Indian jewellery designer continues to inspire artists around the world and are known to be stunning.
If you are a passionate jewellery designer from India, your future is bright and shiny, just like your designs. Indians will never get bored of wearing jewellery since it is deeply embedded in our culture. During wedding seasons, you can see Indians going crazy over picking the right jewellery to go with their lehengas. Not only this, women in India also love wearing pieces of jewellery such as earrings and fingerings on a daily basis when they step out of the house. On many occasions, people like to get their jewellery personally designed by artists rather than buying them from a local jewellery store.
Image source: The jewellery diaries
If you want to create your own brand of jewellery designing, it is important that you understand all aspects of the art through an NSDC jewellery designing course. Below mentioned are some of the advantages associated with learning jewellery designing from experts.
Understanding All Types of Jewellery Designs
Jewellery designing is a broad topic that covers a lot of sub-sections. There are different domains in jewellery designing such as gold jewellery design, bridal jewellerymaking, designing different types of pendants and a lot more. All these topics vary a lot from each other. Doing an NSDC jewellery designing course is the best way to understand all the different types of techniques and tricks that go into designing jewellery. Without taking up a proper course, it becomes very hard for one to understand everything they need to know to become a professional jewellery designer.
Understanding the Different Materials Used in Jewellery Designing
Not everyone knows about the different types of materials that can be used while designing jewellery. Be it pencils, colours or water colours, a specific technique is associated with the use of each of these materials. Every material used in jewellery designing can help in highlighting beautiful parts of the jewellery in many different ways to create the right emphasis. If you are looking to be a professional jewellery designer, it is necessary that you are comfortable with using all these materials to create the right design. An online jewellery designing course generally teaches you how to illustrate using all these materials to prepare you for every situation.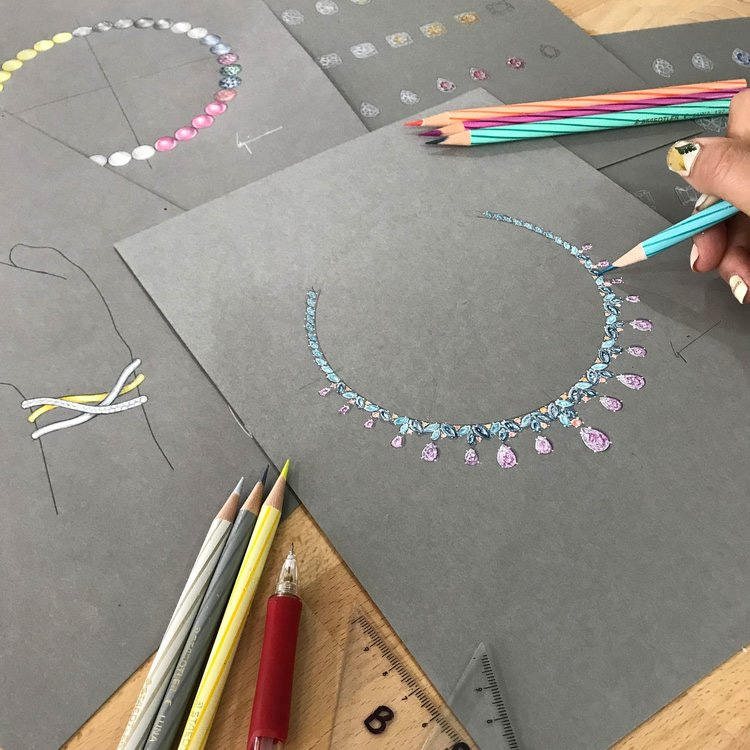 Image source: Pinterest
Understanding in Detail How Various Pieces of Jewellery Are Designed
Be it earrings, bangles, necklaces or bracelets, all pieces of jewellery cannot be designed using the same technique. For example, while designing a bangle, you have to follow a specific set of design rules whereas while designing a necklace, the set of rules will be different. Therefore, if you think that by knowing how to design a necklace you can also design a complete jewellery set, you may not be right. This is simply because the shape, size and position of each element in jewellery designing will vary from one piece to another. In order to understand all these rules better, it is essential to do an in-depth course that covers the length and breadth of jewellery designing.
Image source: Pinterest
What are Your Options After Doing an NSDC Jewellery Designing Course?
Once you have successfully completed your government certified course, there are a lot of options you can explore as a professional jewellery designer:
1.Work for an Already Established Jewellery Brand:
India is home to some of the most well-known and successful jewellery brands in the world. These brands are always looking for talented artists who can bring in variety to the designs being produced by them. Once you successfully complete your NSDC jewellery design certification, many large brands will be interested in hiring you. You can work as a designer at their firm. These large brands also show interest in buying specific pieces of designs from independent artists if they are promising enough.
2.Start Your Own Jewellery Design Brand:
Many people look to hire personal jewellery designers for different occasions. By creating your own designer brand, you open the doors to many opportunities as a jewellery designer. But in order to attract more customers, it helps if you have a certificate. This helps them recognize your work better. People are most likely to pick a certified designer to get their jewellery designed.
Image source: Larsen Jewellery
3.Collaborate With Small Manufactures:
If you don't want to dedicate your time working for a big brand, you can collaborate with small scale designers. There are a large number of small-scale jewellery manufacturers in the country. They are looking to collaborate with passionate designers in order to add more variety to their products. You could start your own designer jewellery brand too. Also, collaborate with these small-scale designers in order to make more profits.
Once you take up a certified jewellery design course, there are multiple career options that you can explore.
Hunar online courses is a platform that offers various jewellery making and jewellery designing courses. Our NSDC jewellery designing course will help you understand the vast world of jewellery designing and use of your talent. Hunar online courses have successfully helped many artists learn jewellery designing in-depth and start their career successfully.