Indian fashion design is adored by people all across the world. Among all the traditional attires of India, saree is the most loved garment. A saree is one of the most elegant Indian outfits adorned by women. However, it is important to choose the perfect blouse with your saree. They can be either contrasting or complementing- but the blouse can make your break your look.
Saree blouses are one of the most important clothing elements for a saree. With change in the fashion industry, there are a variety of designs available in saree blouses. You can pick one as per your choice and your sari design. Many saree trends come and go but what makes a saree style famous is the choice of the blouse. Choosing a perfect saree blouse is dependent upon a lot of things like, colours, patterns, sequins, fabrics, traditional prints and much more. The charisma of a blouse can be brought out when it is perfectly fitting and apt for your body shape and size. The best thing about Indian blouse designs are that they can also be worn as lehenga blouse.
This wedding season, instead of updating your closet with innumerable high neck and mid-neck blouses, you can also try these stylish backless blouses and flaunt your curves.
Now, let us take a look at these amazing backless blouse designs that can give you a stylish look:
1.Backless Blouse with Tassels
Tassels are a trend these days and by attaching some beautiful tassels to your backless blouse, you can give it a trendy look. Adding tassels to your blouse can turn it into a masterpiece. If you are creative, adding colours to the tassels can be a game-changer and you can pair it with a plain as well as with coloured sarees.
Now you can even learn to make tassels for a saree blouse online. With Hunar Online Courses you can make designer blouses with our Garment Making Course.
Image Source- Pinterest
2.Backless Blouse with Doris
Attaching doris to the blouse will make it look even more fashionable. There are different and interesting ways of attaching them to a blouse. Millennials can't imagine their saree blouses without doris and it is the best way to make it more interesting.
You can learn all about it in the Garment Making Course.
3.Backless Blouse with a Back Knot
A backless blouse can look even trendier when it is given a knot. These knots can either be stitched to the blouse or attached artificially to it. Knots make a backless saree blouse perfect for the festive season.
Image Source- Wedbook
4.Backless Blouse with Applique Work
If you want to give an ethnic touch to your backless blouses, try applique work for this festive season. Wear these blouses at parties and turn heads in a crowd.
5.Backless Blouse with Peep Hole
If you wish to try something new and trendy, you can even make a designer saree blouse using the peep-hole design.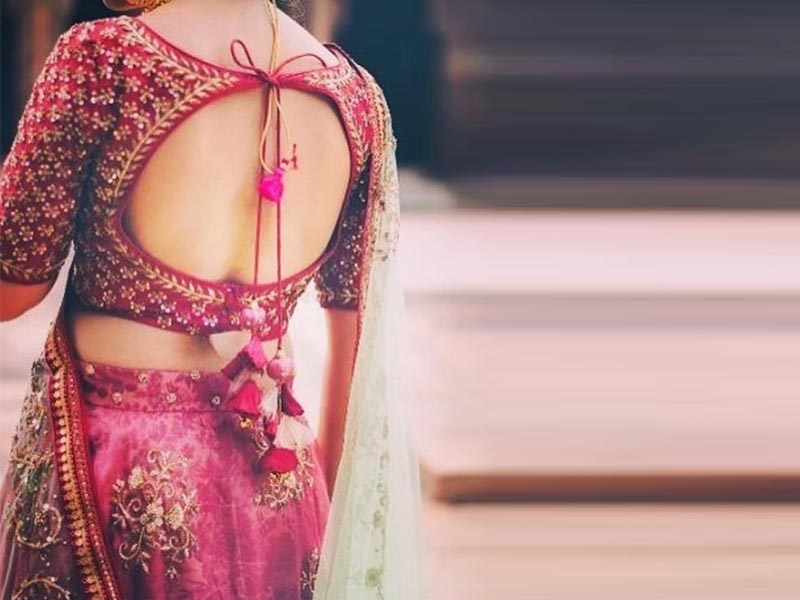 Image Source- Pinterest
People assume that Fashion Designing is very tough but that is not true. To master this skill, you just need to be consistent. Hunar Online Courses offers a Garment Making Course where you can use your creative skills and create different types of saree blouse designs and much more. You can enrol in our Online Garment Making Courses. It has easy video classes which are accessible every time and you can learn from anywhere. You also get 24/7 faculty support which will help you clear your doubts.
Interested in learning more about the unique blouse designs? Enrol in our Garment Making Course and learn to create some stylish and designer blouses for yourself that too in your own language, anytime, anywhere.
So, what are you waiting for? Join Hunar Online's Garment Making course and start learning to create different saree blouses and so much more from the best in this industry! Enrol now to start your journey towards a successful career!