In today's world of fashion, make-up is a trend that is catching up across all generations. Women are increasingly taking the art of make-up more seriously by learning professional make-up courses and aiming to become a proficient make-up artist. Fashion styling is incomplete without make-up. If you plan to be a fashion stylist, it is necessary that you also know the basics of make-up since both of them go hand-in-hand.
It so happens that amateur make-up artists often play with the rules and forget to follow the most basic steps while applying make-up. When you follow the rules of make-up correctly, you'll realize how make-up can do wonders. There are many platforms that offer certified beauty courses. If you are someone who is interested in make-up yourself and also love to help other people dress up, here are 8 make-up rules that you need to follow.
Image Source: Time of India
Make-Up Rules that You Need to Follow
1.Keep it Simple
If you are someone who does make-up on a daily basis, it is important that you sometimes keep it simple and normal. Fashion styling is all about accentuating your look by keeping it elegant and not over-doing it. Many people often tend to use too much make-up where it's not necessary. It's always important to dress for the occasion and not overdo it.
2.Pick the right foundation
Any professional make-up artist would agree to the fact that applying the right shade of foundation is the most important step in make-up. Foundations come in different shades to match different skin-tones; it is necessary that you understand which shade suits you the best. Foundations are mostly used as the base to apply make-up and hence become the most important step while creating the look you desire.
Image Source: Face Stockhome
3.Prepare Your Skin
One very common mistake that every amateur make-up artist makes is not applying a toner or a base cream before starting to apply the make-up. Our skin is very uneven because of open pores and directly applying make-up without smoothening out your skin is a horrible blunder. Bad quality of make-up is also harmful to the skin and if you were to apply make-up on your skin directly, there are chances that you might have an allergic reaction. Thus, it is always advisable to prepare your skin first by using the right moisturizer or toner.
4.Follow a Trusted Make-Up Artist
In today's world of social media and YouTube, we follow a lot of videos and take inspiration for fashion styling. But blindly following any make-up artist is also not advisable. Simply because you can't be sure if the same steps that they followed will suit your face and skin as well. Before you start applying make-up, always have the steps planned. If you are planning to do a heavy make-up look, then it is advisable to write down the steps so that you don't get confused. While applying make-up, it is important that you carefully follow these steps.
5.Always Do the Eyes First
When it comes to applying make-up products on your eyes, there are a lot of options. People use kajal, eyeliner, eyeshadow, eye cream and what not. While applying make-up on your eyes, there are chances that something might go wrong and you would have to start all over again. For example, your eye shadow might fall on your cheeks or your eyeliner on both eyes may be uneven. In any of this case, you would have to wash your face a redo the entire look. Therefore, the best practice that any good make-up artist would follow is to complete the eyes first.
Image Source: Pinterest
6.Do Not Use your Hands
One shouldn't use their hands while applying make-up as it can result in skin breakout. Touching one's face leads to direct contact of skin with dirt and oils from hands. This can lead to infection or skin irritation. In addition, for a smooth and non-patchy looking tone, one must avoid using hands directly to apply make-up. The unevenness often draws unwanted attention to the face. Especially, while applying foundation on your face, one needs to be mindful about using fingers. Instead, use a make-up brush for that fine finish.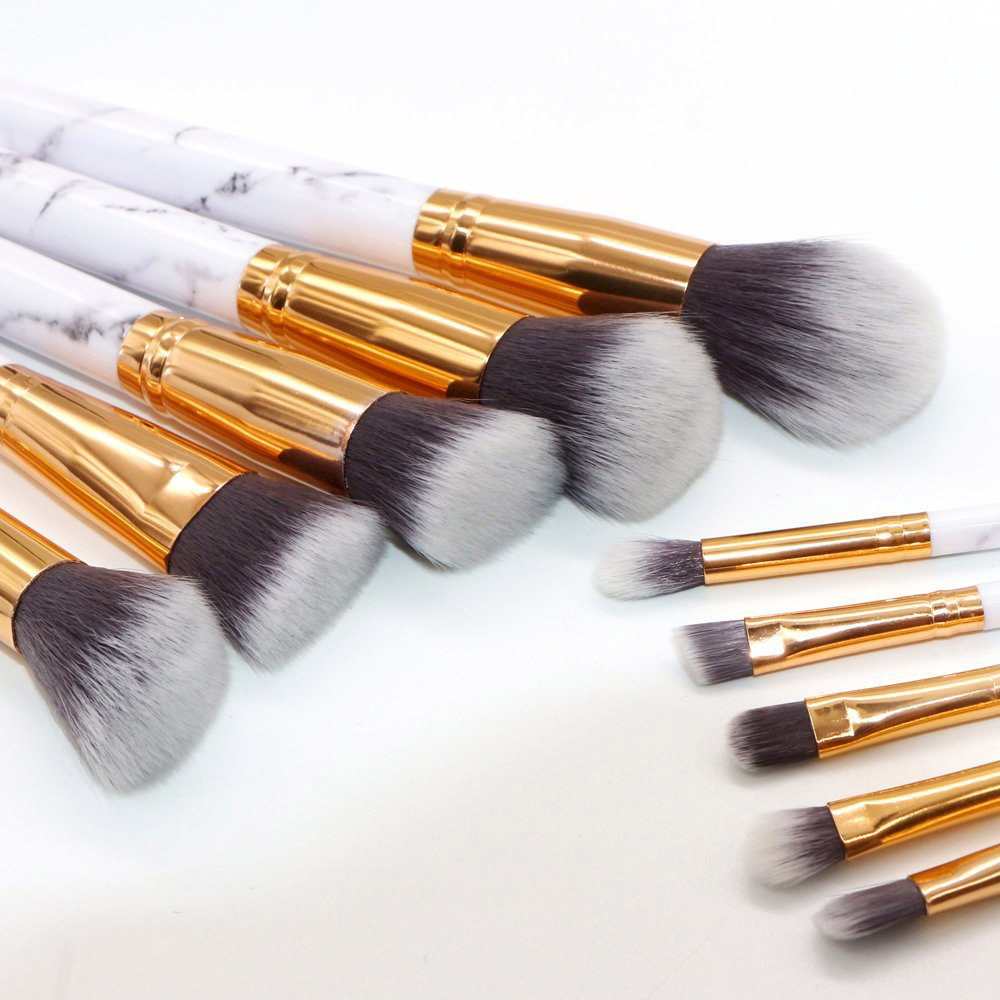 Image Source: Made-in-china.com
7.Blend Everything in Properly
Any make-up course would teach you that blending properly is the only golden rule of make-up. Since you realize by now that there are a lot of things being applied on your face, it is necessary that all elements need to be carefully blended. Starting with the moisturizer, then the toner, the foundation etc., there are numerous elements that go into completing your look. Therefore, it is important to use the right brush and take enough time to blend every layer in smoothly.
8.Use the Right Lipstick
Just like the right shade of foundation, it is also necessary that you pick a shade of lipstick that goes well with your outfit. Today, we also have varieties of lipsticks available such as matte, gloss and normal. Which type of lipstick you use is also dependent upon what the mood or the occasion is. If you are using make-up on a daily basis, it is advisable to use lighter shades.
Hunar Online Courses is a platform that offers a wide range of courses in fashion styling and make-up. Hunar online offers detailed video lessons that can be watched from the comfort of your home. This platform provides certificates after completing your course that are sure to help you start your own business. For all courses, Hunar Online provides sessions with experts who are available 24/7 to clarify your doubts and help you every step of the way.
So, what are you waiting for? Sign up for a creative course with Hunar Online today.