If you are a big fan of styling your hair in multiple ways, there are a lot of hacks that you need to know. Fashion styling is incomplete unless you pick the right hairstyle to go with your outfit. A heavy hair look goes well for special occasions but on some outfits, it is also important to have a simple hairdo. Any beauty course will teach you how to make fashionable hairstyles. Many people believe that only a professional can style your hair perfectly in a beauty parlour. But there are many hairstyles that can be done at home without using any heat or other fancy equipment.
Fashion styling in the new age is about the complete look including your hair and make-up. Leaving your hair open is nowadays very basic since many people are choosing to style their hair differently. When we have an event planned, we always try to wash our hair, condition it and keep it ready for the night. Why not take this preparation one step further and complete your look with an easy hairstyle? Here are some ways in which you can style your hair at home without using any heat:
5 Hairstyles Without Using Heat
1.The Half Up Knot
These days, the Half Up Knot hairstyles are becoming very popular in fashion styling. This type of hairstyle is not only fashionable, it is also very easy to make. The half up knot hairstyle simply means that you have to tie half of your hair up in a bun and leave the rest open. This hairstyle can go with any formal, semi-formal or casual look. It makes you look simple but classy and elegant. If you do not have the time to wash or condition your hair, this hairstyle is your best option. Many women are also using the half up knot hairstyle on traditional or festive looks. The half up knot hairstyle makes your hair look a little messy but still gives it a beautiful look. While pairing this hairstyle up with a festive look, all you need to do is add some extra decorations to your hair.
Image Source: DIYs.com
2.The Twisted Side Braid
This is another simple hairstyle that any makeup artist loves to use. The twisted side-braid is a look in which the front part of the hair is twisted into a thin strand and the back part of the hair is folded into a braid. Fashion styling is all about keeping it simple, cute and beautiful. This is one hairstyle that makes women look extremely cute. The twisted braid hairstyle can be twins best with any formal or casual look. This hairstyle can also put together a heavy traditional look, all you've got to do is add some flowers, kundans or extensions to the braid to match your heavy festive attire.
3.The Half Up Twist:
The half up twist hairstyle goes best with a party dress. Anyone with straight, curly or frizzy hair can opt for this hairstyle. In makeup studios around the country, women are asking for elegant hairstyles and this is the favourite pick for many. This hairstyle can simply be achieved by twisting two ends of your hair from two sides of your parting, then tying them both together in the back with a hair-tie or a clip. The half up twist hairstyle is only used for casual, formal or small gatherings and does not go well if you have a heavy outfit planned. The half up twist hairstyle goes best with plain long or short dresses. This hairstyle is the best pick during the summer season.
Image Source: YouTube
Also Read :Top Fashion Styling Hairstyles for 2021!
4.Dutch Boxer Braids
These two-sided braids are extremely popular among young women nowadays. This hairstyle goes best with any vacation look. Not only does this hairstyle look good during a vacation, it is also very comfortable. Having hair fly during travelling can get very irritating, boxer braids keep your hair in place for a long time and prevent them from flying. Fashion stylists also suggest this hairstyle to people who have very long hair and want something to go with a casual look. Although this hairstyle is a little complicated and it might take you a lot of practice to be able to do it perfectly, once you learn the trick it's very easy. This hairstyle is basically two French Braids tied from two sides of the parting. Since it is a French style braid, you don't have worry about redoing it for a long time.
Image Source: Pinterest
5.Side-Braid Bun
This hairstyle is another way of styling your hair easily without using any heat or any fancy equipment. You don't have to go to any makeup studio just to get your hair done for a party or an outing. The side braid bun is the most elegant hairstyle that many actresses and celebrities also choose to wear. The trick is to tie some part of your hair in a side braid and then secure the rest by tying a bun. This hairstyle helps in keeping your hair in one place which is the best part. You won't have hair coming all over your face and at the same time you have a look that'll make you stand-out from the crowd.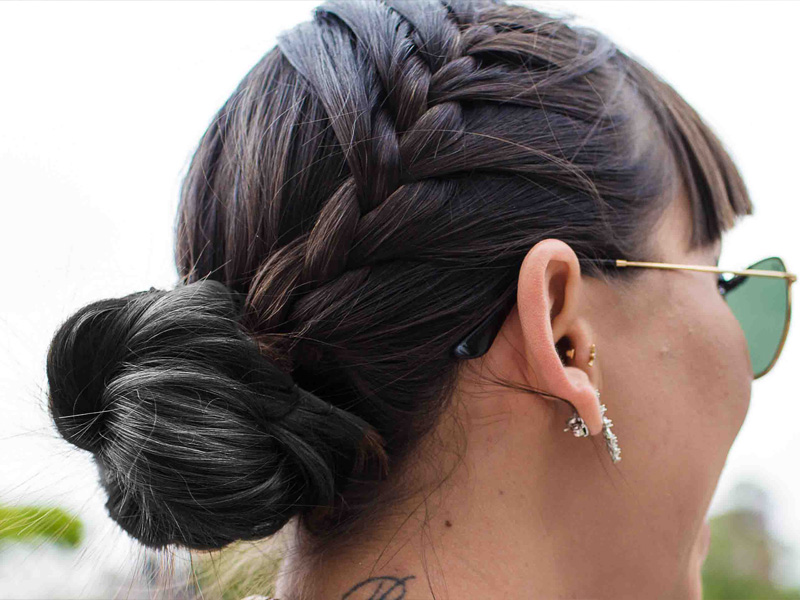 Image Source: Glamour
Hunar Online Courses is a creative skills platform that offers many certified courses in makeup, fashion styling and beauty. Hunar Online has empowered many women across the country to learn more about fashion and has enabled them to start their own business. If you are also someone who is a fashion enthusiast, then apply to Hunar Online today and get certified for your skills.