Western home interior ideas are becoming very popular in India. People are now willing to invest more money to make their homes look beautiful. Having a plain interior design for your house can be considered as being very basic and boring. Nowadays, there are many different techniques that people are using when it comes to home décor. Most of these ideas are inspired by western countries but they still have an Indian touch to it. Adding home interior désigning also helps in making your space more personalized with a special touch of your personality.
Many people are increasingly looking for interior designers who can give expert advice on how a design can match with the their personality. As individuals, our choice of colours and aesthetics is very different from each other. But there are a few common home interior design techniques that are currently very popular. If you are someone who has been waiting to upgrade the look of your home, then here are some things that you can do.
Image Source: Medium
Popular Interior Design Ideas
1.Add Real or Fake Plants
The idea of having plants both outside and inside your home is now a popular home interior design idea that is being used by many. Small plants are extremely adorable and can immediately change the vibe of any room. Plants also help in making you feel calm and being at peace. The colour green is known to make a person feel relaxed after a long day of work. Plants can be placed in any part of your home be it your bedroom, kitchen or balcony. If you are someone who loves the idea of having plants around you, there is so much that you can do with your home interior decor. Nowadays, there are various methods of interior designing that use plants and can help you make your home look more beautiful.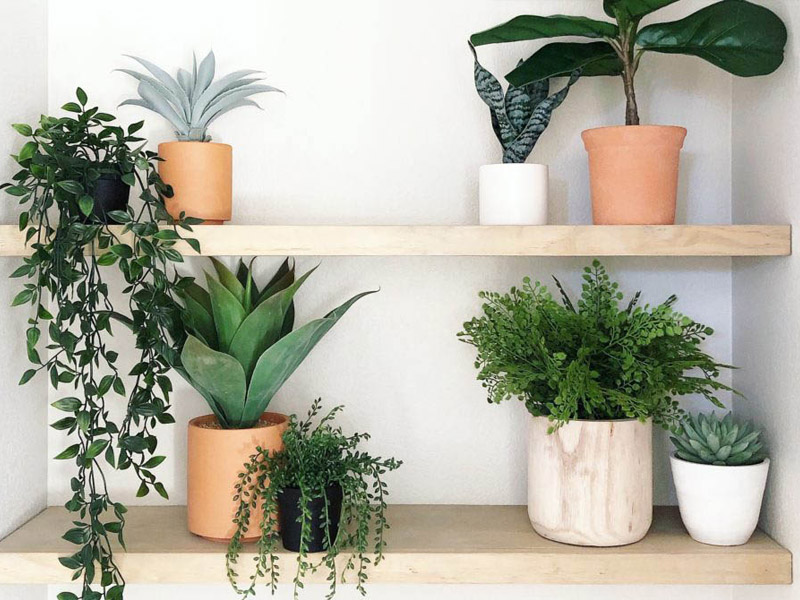 Image Source: Angela Rose Home
2.Add Wooden Furniture or Wooden Elements
Wooden furniture carries with it an incredibly rustic and elegant vibe. Your home interior décor can look completely different if you add some wooden furniture or wooden elements in different parts of the house. There are many types of wooden furniture that you can choose to add in your living space. Wooden furniture can also be customized based on the likes of people. You have to ensure that any wooden furniture you invest in has to match the already existing look of your home. Wooden furniture is considered to be expensive but the truth is that it is the best type of one time investment. If you are someone who does not like to change your furniture on a regular basis, wooden furniture is the right fit for your home interior design.
3.Wall Tapestry
A tapestry is a huge piece of designer fabric that can be hanged on any wall in your house. The use of tapestries for home interior décor is becoming very popular in young Indian households. Earlier, wall tapestries used to consist of huge floral and bohemian patterns. But these days, fabric designers are creating wall tapestries carrying numerous sorts of paintings and designs. Adding a wall tapestry to your home interior design is the best way to make good use of the vast blank space on your walls. Wall tapestries come in different shapes and sizes and can help on completing the look that you have always imagined for your home. Many people have tapestries that are added to compliment the look of a room. The look of your room will determine the type of wall tapestry that you should pick.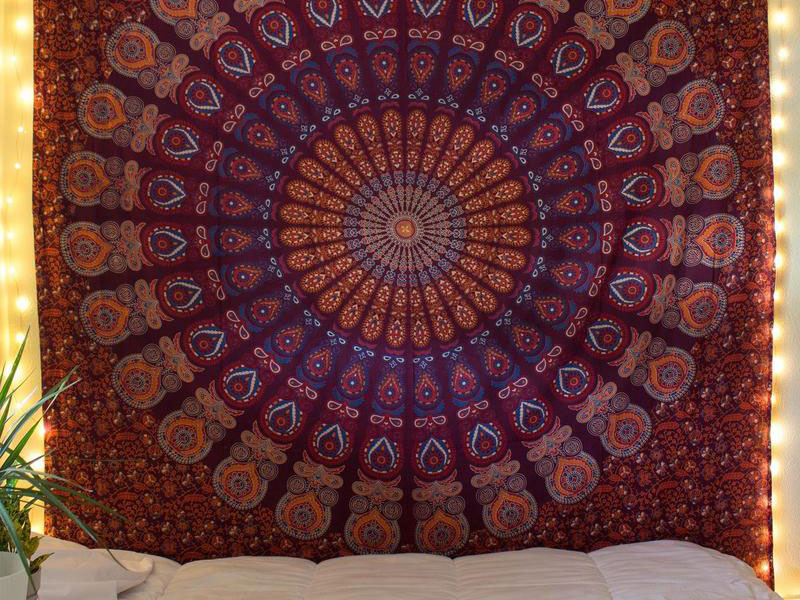 Image Source: The Bohemian Shop
4.Adding Lights and Candles
Home interior décor is incomplete without adding the right types of lights. Lights are a very important part of interior designing since good lighting can completely transform the look and feel of your home. Not just the use of lights but the use of candles can be a good addition to your home interior design too. The size, strength and colour of different types of lights can help in adding a lot of variety to your home. The best way to make your room look pretty is by using a lot of fairy lights that not only illuminate the place but are very nice to look at. Stylish lights can be added to literally any corner of your house and can save you the money of having to invest in other home décor items.
Image Source: Pinterest
5.Adding Family Frames
Home isn't considered home without a family. Your home interior design should definitely include ideas where you can showcase your family pictures. Family pictures carry very special memories of moments that are close to our heart. Looking at these pictures can often remind us of all the good moments we shared as a family. Adding family frames will not only make your home feel more like home, it will also create refreshing memories every time you look at them. Not only this, you can also share the story behind your pictures with people that visit your home.
These are some of the easiest ways in which you can beautify the look of your house. At Hunar Online Courses, we offer courses in home décor and candle making that will give you an opportunity to sharpen your creative skills. Throughout the years, Hunar Online Courses has been able to successfully help women in starting their own business. Hunar Online provides certificates after completing your course that are sure to help you start your own business. For all courses, Hunar Online provides sessions with experts who are available 24/7 to clarify your doubts and help you every step of the way.
So, what are you waiting for? Sign up for a creative course with Hunar Online today.