The intricate thread work on different garments appears gorgeous and displays the true craftsmanship. Embroidery is one of the earliest techniques used to create some amazing pieces of garments. Not only in India, this is one of the most important and preferred art works across the globe.
Fashion and Textile Design Courses provide the skill to craft stunning pieces that creates a theme and gives elegant quality. Here are some embroidery patterns that you can try on kurtis:
Zardozi Embroidery
Zardozi embroidery is believed to have originated in Persia. It is an ancient art of sewing gold and silver threads on colourful printed fabrics. This gold thread embroidery style and technique is a method applied in embellishing and doing artistic work with printed thread on rich fabrics.
Gotta Patti Embroidery
Gotta Patti is originally used in ethnic dresses. Earlier, these embroidery pattern were used especially for garments that were meant for auspicious and spiritual occasions. They are done using appliqué method on strips of gold, silver or other colour ribbons in diverse size woven in a satin or twill. You can learn the to make more garments using this technique in textile courses.
Phulkari
Phulkari is one of the most famous embroidery styles where flower motifs are stitched on the fabric. This pattern is quite unique as stitching is done on the reverse part of cloth. The most preferred fabrics used are usually hand-spun or natural-dye khadi cloth. Contrast patterns in bright colours and lighter fabrics is what makes this embroidery unique.
Chikankari
Chikankari embroidery was started as white-on-white embroidery. Now they are used on several fabric of different colours. It includes white threads embroidery on soothing pastels to coloured silk threads. Fashion Textile Designers are one of those people who can flawlessly create these embroidery designs.
Kantha Embroidery
Kantha Embroidery originated in the Eastern states of Bengal and Odisha. They are known for its simplicity and artistic details. Kantha is depicted with coloruful motifs of nature including birds, animals and flowers in running stitch. The designers usually leave short gaps between stitches. Apart from kurtis, kantha stitch is also used for the designing if other elegant ethnic garments like sarees, anarkalis and many others.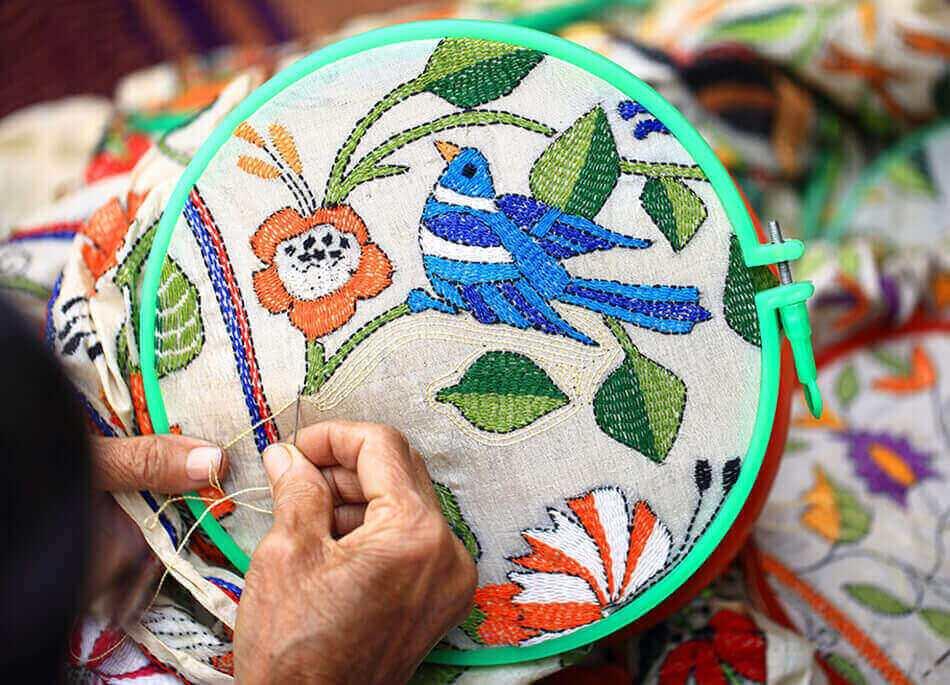 Join Online Textile Courses now and get trained under expert guidance, which will help you to make unique embroidery designs. Enrol in Hamstech Online Courses and learn from the comfort of your home in Hindi, English and Telugu with 24/7 faculty support.
Now Learn Fashion Designing Anytime anywhere with easy Online Video Classes. Download the App Today for Free Trial of Exciting Courses.