Seam finishing is a very important part of the sewing process in creating garment patterns. They are the backbone of any sewn project. Seams make the inside of the garment look as neat and clean and professional as the outside. A proper seam finish can prevent the fabric from fraying and creating a mess.
Garment creation is an art! There are various methods to perform seam finishing on a fabric. Through this blog, you are going to learn four best practices in seam finishing.
Zig Zag Seam
Zigzag stitching can be done for any fabric. Just make sure that the fabric is not too delicate. One of the best ways to do seam allowance is to sew by using common seam allowance firs. Then stitch zigzag next to the seam allowance and trim the excess fabric. This works very well for curves like princess seams and armholes.
Hong Kong or Bound Seams
Hong Kong or Bound Seam is one of the easiest seams and it is ideal for things like unlined jackets. They are also very suitable for heavier weight weaved fabrics as they won't change the way fabric drapes.
Pinked Seam
Pinked seam is best suited for stable fabrics, or on the fabrics that don't fray easily. It is also one of the simplest seam finishes and requires no sewing. Using the pinked seam prevents unraveling. The best way to do is by cutting the fabric close along the edge with pinking shears before pressing.
Turn and Stitch
Turn and stitch is an old form of seam stitching. It is a great way to get neat and finished seams. In turn and stitch seam finish, all you have to do is to sew your seam at the seam allowance.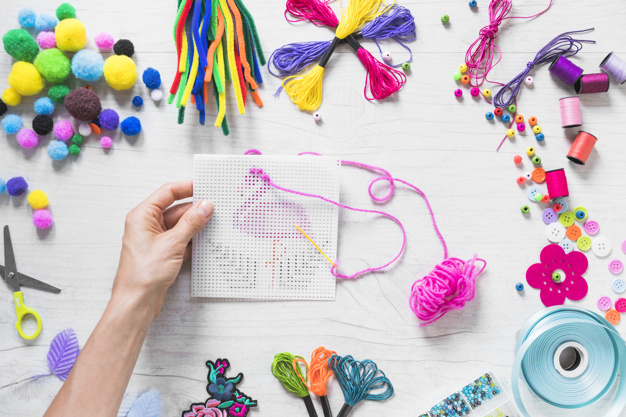 Once you are done with sewing, turn the raw edge of the seam allowance in 1/8th-inch fold on either side of the seam, press, and stitch down. This technique only uses straight stitching. Hence, it doesn't require much thread and it is a very economical way to finish a seam.
French Seam
A French seam is one of the best ways to finish the inner side of the fabric. It encloses the seam allowance on the inside of a sewn item. It is ideal to use French finish for straight seams but it is not recommended for curved seams. French seams are best on lightweight woven fabrics and also ideal for sheer fabrics.
Having knowledge in pattern making helps a lot in stitching the fabrics. If you wish to learn more about garment creation and pattern making, enrol in garment design course with Hunar Online Courses and learn the craft anytime at your convenience.
Confused about where to start your Fashion Designing course? Worry Not! Hunar Online Course App is now Available to access wide range of Fashion Courses completely Online. Download the App Now!