One of the most graceful Indian garments ever made is a 6 yards of unstitched fabric – Saree. A saree is one such attire that gives an elegant look to women of all ages. It is rightly known as 6 yards of magical elegance. India is home to a huge variety of sarees and it can be won in various different ways. Each region in India produces a different variation that reflects cultural diversity. The saree and all its parts, the body, the pallu, the border, the fabric and the saree design, everything plays an important role in defining the beauty of a saree. Silk fabric, net fabric, cotton fabric, and much more, you can find a saree made up of various types of fabric.
However, irrespective of the type of the saree, there is one element which stands out to compliment the overall look: the saree border. Sometimes, women even prefer to buy saree borders separately. The borders are filled with artistic works of different types. It is the most definitive feature of the saree that can change the whole look of the costume.
Check out the major types of saree borders:
Gota Patti Saree Border
Gota Patti is the pride of Rajasthan which is well-suited for grand occasions and weddings. When used on saree borders, they look fabulous irrespective of bright or dark colours. You can also find gota patti decorated with stones to create stone work borders.
Mirror Work Saree Border
When it comes to an elegant saree border, mirror work creates real magic. Mirror work is a prominent artwork which is very often related to the Banjara style. This art is applied to a saree border. It works brilliantly well with plain sarees without being visually overwhelming. It gives a royal look and can be worn to wedding functions and festivals.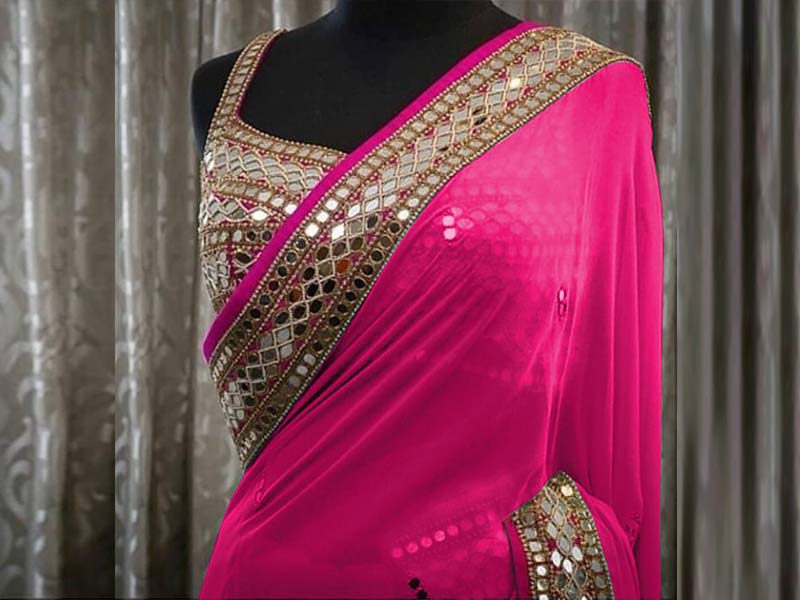 Image Source- Lehenga-Saree
Floral Saree Border
Floral saree border is one of the most trending & artsy styles. This style does great with light floral embroidery designs. This saree border style can increase the beauty of a saree in an instant and gives a very chic look. It can be easily worn to evening parties and office events.
Image Source- Panash India
Scallop Saree Border
Scallop saree borders look great on a saree that is made out of net fabric and can make anyone look gorgeous. This style of saree border is ideal for a wedding and festivals.
Velvet Saree Border
Saree borders for velvet sarees have a lot of variety and are wonderful. It fits perfectly for weddings and high profile parties. It can instantly give you a chic look.
The Modern Multiple Border
This border style is trending in the modern days. One can spot many celebrities wearing modern multiple border saree. This border is mostly spotted on the sarees made out of net fabric. The effect this border style creates is truly unique.
Zari Border
You can find a zari border on almost all kinds of sarees but the most common saree for zari border is a pure chiffon saree. It is a light weight saree and is easy to wrap. This saree is favourite for all those who are looking for easy to wear fabric. The zari border of medium thickness gives a rich look to the saree. One can easily wear it to wedding parties and special occasions.
Image Source- JR Silks
Embroidery saree border, thread work border, stone work border and much more, you can create all types of saree borders from the Garment Making Course offered by Hunar Online. You can learn to create a variety of dresses with the help of this course from the comfort of your home. People assume that creating a saree borderis very tough but that is not true. To master this skill, you just need to be consistent. Hunar Online Courses offers a Garment Making Course where you can use your creative skills and create different types of saree, saree borders, designer clothes and much more. You can enrol in our Online Garment Making Courses. It has easy video classes which are accessible every time and you can learn from anywhere. You also get 24/7 faculty support which will help you clear your doubts.
So, what are you waiting for? Join Hunar Online's Garment Making Course and start learning to create different sarees, saree borders and so much more from the best in this industry! Enrol now to start your journey towards a successful career!