These days, people are bored of plain looking interiors and are ready to revamp their house by using many home interior décor ideas. This is because there are many options available today to make your home look fashionable and create a strong first impression on the minds of people who visit your house for the first time. It's not just about the home interior décor of your bedroom or your main hall, but it includes all the rooms including your kitchen. Nowadays, people are opting for modular kitchens and have slowly drifted away from the idea of having a traditional kitchen. Now that's where a kitchen interior design course by Hunar comes handy.
In India, one of the most sacred parts of the house is a kitchen. But this does not mean that you cannot give your kitchen a modern look. Home interior décor is all about creating a vibe that suits your personality and reflects your values. Many interior designers are suggesting people to revamp their kitchen by investing in furniture or expensive home décor items. But you don't have to pay a huge sum of money just to make your kitchen look good and stylish. Here are a few affordable ideas that you can use to make your kitchen look modern.
Affordable Ideas to Make Your Kitchen Look Modern
1.Add Container Plants
These days plants are being heavily used for home décor. Not just for your balcony or for the outside part of your home, plants can also be used inside of your room or hall. In fact, you can use house plants to decorate your kitchen too. There are many old aluminum utensils that we do not use and are just lying there. These utensils can be used to plant small saplings instead. Aluminum containers with small plants will surely make your kitchen interior design look more stylish and will change the look of your complete home interior décor. To make it even more modern, you can plant seeds like coriander, chilles or small herbs that you can directly use for cooking. You can place these plants near your kitchen window since they do not need too much sunlight to grow.
Image source: Country Living Magazine
2.Using Colourful Containers to do your Kitchen Interior Design
Home interior décor is all about creating the right contrast using the right colours. Even in your kitchen, you can create a balance of colours by using colourful containers. You can choose the colours of these containers depending upon the overall colour of your kitchen. For example, if you have painted your kitchen in white colour, you can use blue colour containers and place them on shelves from where they are visible easily. These days, many stores will give you materials that will suit your kitchen interior design very well. All you need to do is look for the right materials by creating a very aesthetic image of how it will all look and then buy everything accordingly.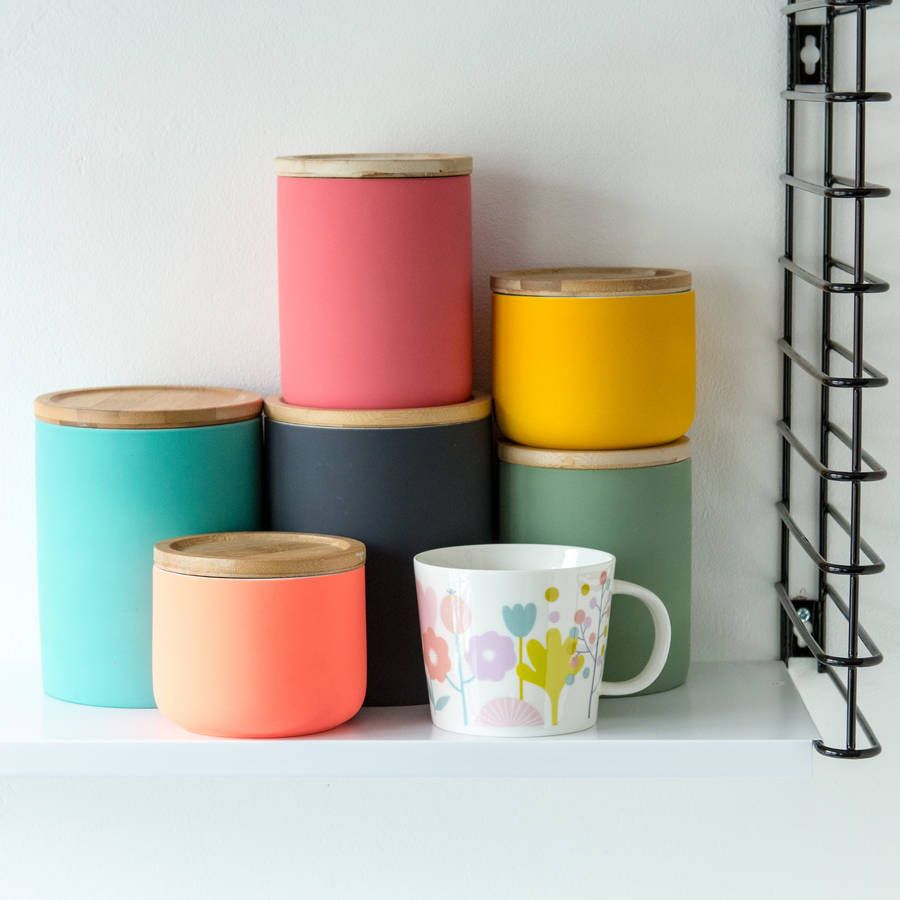 Image source: Pinterest
Also Read: 5 Most Popular Home Interior Ideas in 2021
3.Using Stylish Tiles
These days, tiles are trending almost everywhere and will go perfectly with your home interior décor ideas. There is a huge variety of tiles available in the market that you can choose from. Not just plain tiles, you now also have an option to choose from designer tiles since they are very much in trend. You can create a whole pattern in your kitchen by using a variety of small sized tiles. Not just for your kitchen, you can use tiles to decorate any wall in your home creating the right home interior décor vibe. For your kitchen, it is generally advisable to use a set of dark-coloured tiles since there is a lot of oil and other materials that tend to splash on the walls while cooking. If you use light-colorued tiles, there is a huge chance that you might have to scrub these tiles every day to make them look clean. Therefore, the best idea is to use dark-coloured tiles that you can clean once in a while.
Image source: Pinterest
4.Using Hooks and Hangers for Your Cooking Spoons and Pans
People generally feel that home interior décor is all about keeping all the useful materials inside of closets. But the truth is that the right home interior décor ideas will not only make your space look good, they will also provide you with an ease of access. When it comes to the kitchen, there is a set of utensils and essentials that are used while cooking all meals. Instead of keeping these materials hidden in the drawers, you can hang them on your kitchen wall using the right hooks and hangers. Wooden hooks look more aesthetic when compared to plastic hooks and also are more powerful. You can place wooden hooks in horizontal or vertical patterns and then hang all your essentials. These can include pans, cooking spoons, aprons, scissors or chopping boards.
Image source: Real Simple
These are just a few home interior décor ideas that you can use to make your kitchen look more stylish and modern. If you are someone who is interested in learning more about home interior décor, you can choose Hunar Online Courses and learn from the comfort of your home. Hunar Online Courses is a platform that offers a wide range of courses in the field of fashion designing and home décor and has enabled many women across India to start their own business. At Hunar Online, you will get access to detailed video lessons and can learn from anywhere. You will get 24/7 faculty support and a chance to learn from the experts of the industry.
So, what are you waiting for? Join Hunar Online Courses and start paving a new path to your career