Most people love to wear jewellery, especially for a festive occasion. They not only enhance your looks, but also define your personality. These days, many people tend to join Jewellery Making Classes to create their own unique designs. One of the most popularly used materials in designing these dazzling pieces is beads. They are easily available in the market and are inexpensive. Pair them with artistic sarees or elegant maxi dresses and you will certainly make a style statement.
Hamstech Online Courses provides a brilliant platform where you can enrol in Jewellery Making Courses and become a pro in beaded Jewellery making right from your home.
Here are 4 ways you can style beaded jewellery with a saree:
Beaded Necklace with Gold-Plated Pendants
You might face some difficulty in choosing the perfect accessories for bold coloured sarees. So, if you are wearing a dark saree, then this beaded neckpiece with gold plated pendants is the perfect one for you. It looks elegant and stunning with this type of outfit.

Silver Necklace with Blue Beads
The best part of silver jewellery pieces is that they look amazing with all kinds of outfit. Try this magnificent silver necklace with blue beads and a matching saree. This necklace will make you appear stylish and you will feel like a diva.
Brown and Black Beads
You will love these beautiful brown and black beads if you are choose simplicity and minimalism. You can take Fashion Jewellery Making Class and make some amazing beaded jewelleries just the way you like it. This beaded necklace will look great with comfortable cotton sarees.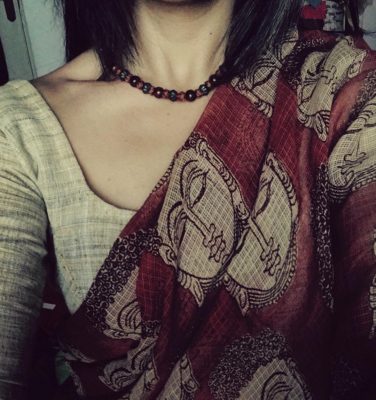 Black and Red Beaded Necklace
Pair your simple printed cotton sarees with this black and red beaded necklace This stunning piece of jewellery will grab all the attention and will give you a stunning look.
These kind of jewellery showcase artistry and becomes a style statement when paired with the perfectly complementing outfit. If you want to create your own signature jewellery designs, join handmade Fashion Jewellery Making with Hamstech Online Courses and get 24/7 faculty support.
Get all the Excitement through the Hamstech Online Courses APP Today. Download Now!